Wood Group shares fall on engineering arm profit outlook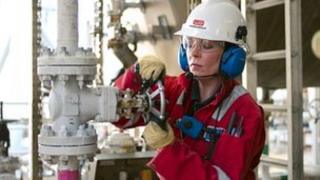 Shares in oil services provider Wood Group fell sharply early on Tuesday after the Aberdeen-based company lowered its engineering division's profits forecast.
Wood Group had predicted full-year profits before tax and interest of about 15% for the division.
But it revised that figure down to 10%-15%, blaming project delays and a weaker market in Canada.
Its share price was down more than 9% in early trading on Tuesday.
Wood Group reported a strong first half to the end of June, with overall revenue from continuing operations up 3% to almost $3.45bn (£2.2bn) and profit before interest and tax up 18.6% to $243.2m (£155.2m).
Its engineering wing saw revenues in the first six months increase by about 13%, with growth across a number of sectors including upstream, subsea and pipelines and downstream.
Wood Group PSN, which provides life-of-field support to producing assets, reported a 7.9% rise in revenue and 23% increase in profits before interest and tax, following "a significant contribution" from its US onshore activities.
The group said it remained confident of achieving full-year performance in line with expectations.
Dividend increased
It declared an interim dividend of 7.1 cents - an increase of 25% - which it said reflected its confidence in the group's longer term outlook.
Wood Group also reported that it had made "good progress" in the first half on increasing collaboration across the divisions.
In July, Wood Group Mustang and Wood Group PSN jointly secured a detailed engineering and procurement scope for an offshore development in Canada, and are working more closely together in the US, Australia and elsewhere.
Commenting on the results, chief executive Bob Keiller said: "We have achieved good growth in the first half and remain confident of achieving full-year performance in line with expectations.
"In March, I talked about our focus on increasing collaboration across Wood Group; this is progressing well and we have already seen new business opportunities driven by people working more closely together.
"Activity levels generally remain healthy and we believe the group is well positioned for future growth."