Footfall drops at Scottish shops despite sales growth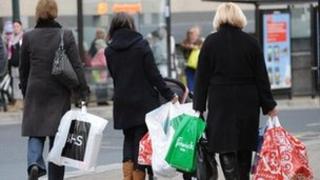 There was a drop in the number of shoppers in Scotland in July, despite a record-breaking growth in sales.
Figures from Springboard and the Scottish Retail Consortium (SRC) showed footfall was 1.3% lower last month than a year ago and dropped from the 1.2% rise recorded in June 2013.
For the UK as whole shopper numbers rose slightly, by 0.8% compared with last year.
The vacant shops rate - at 10% - was lower in Scotland than elsewhere.
Sales figures published last week suggested Andy Murray's triumph at Wimbledon and sustained hot weather combined to give Scotland's high streets their best performance for two years.
Sales in July were up 4% on 2012.
Seasonal items
The latest survey also showed that for the quarter from May to July 2013, the number of shoppers in Scotland was up by 1%.
The UK figures showed a 2.3% rise in the number of high street shoppers and an equal decline at shopping centres, while there was a 0.9% increase in out-of-town shoppers.
Fiona Moriarty, director of the SRC, said: "A slight fall in Scottish shopper numbers doesn't initially chime with the record-breaking July sales growth we saw last week.
"However, a lot of the products that sold well were summer foods, fashion and outdoor living items: seasonal items for which a lot of us plan shopping trips rather than buying on a whim.
"Equally, lots of summer spending took place in the Highlands and Islands and coastal areas rather than town centres."
The SRC said the vacancy rate was broadly in line with the previous quarter and below the UK average, but the fact that over one in 10 town centre units is standing empty "remains a real cause for concern".
Ms Moriarty added: "July rounded off a strong quarter for sales growth, strengthening the sense of cautious optimism, but if the Scottish government wants to support long-lasting recovery it should reduce the cost of doing business in our town centres."
Diane Wehrle, from Springboard, said the figures for the UK indicated a long-term improvement for footfall.
She added: "Whilst the recent hot weather undoubtedly supported activity in high streets in July with an increase of 2.3%, the 1% uplift in footfall over the quarter is likely to have contributed to a drop in the vacancy rate from 11.9% in April to 11.1% in July.
"It seems that occupiers are starting to return to the high street, suggesting a greater degree of optimism over future trading prospects and lending further support to the proposition the performance of retail locations is stabilising."