Going to work on labour reform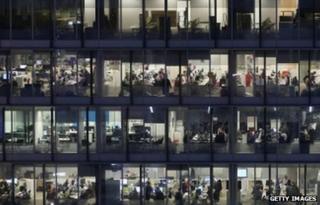 After a poor show for job creation last year, the trends in Scotland this year look rather more positive.
And as I've been covering for Reporting Scotland this week, that's just one of the indicators that makes it look like the economy might be turning the corner.
We got lots of positive data about the UK economy last week. And this week, in addition to jobs, we've heard that the Scottish one has been seeing much stronger retail figures than we're used to.
Purchasing managers are more upbeat with new orders and their recruitment looking up. Productivity has bounced back, says the Scottish government's chief economist.
We're seeing more transactions in the property market. Airport passenger numbers were up last month. And there are signs of a pick-up in the growth rate for Scottish exports.
Diverse Britain
But let's look closer at the jobs, and some of the implications for a big decision on Scotland's future next year.
The headline figures see 13,000 more jobs in April to June when compared with the previous three months, and a fall in unemployment of a more modest 1,000.
Look at it over a year, at this mid-point, and you can see 31,000 more Scots in work, 17,000 fewer people looking for work. And if those numbers don't seem to add up, consider the fact that there were 14,000 more people telling the labour force surveyors that they're either in or available for work.
Note, while we're there, that Scotland's workforce has grown much more slowly than the UK a whole, which may have to do with migration. Scotland's "economically inactive" numbers are down 3,000 on last year, at a much slower pace of decline than the UK.
You might also want to note how much London and the south-east of England is driving the improvement in the wider economy. The number in the workforce up by 177,000 over the year. The number of new jobs was up by 176,000. That's 71% of England's total.
And UK unemployment only fell in the most recent figures, because of the modest improvements in Northern Ireland and Scotland. Indeed, there's a diverse series of stories about the economic recovery, it seems.
The south of England (though not London) is comfortably under the 7% unemployment threshold newly targeted by the Bank of England before it considers a rise in interest rates. At 7.2%, to the UK's 7.8%, Scotland may soon hit that threshold as well, with its unemployment figures increasingly divergent from the UK average.
'Double the paperwork'
And if we take a closer look at the way the Scottish labour market, there may be surprisingly big choices ahead.
The case against independence, as it affects the labour market, was set out by the UK Government recently, with warnings about the complication for employers of having to create different payrolls. One of those I heard from recently, who's taken a look at the difference it makes to operate on both sides of the border in Ireland, says the simple answer comes back: "double the paperwork".
There was an assertion also from the UK Government that it could become more difficult to move between jobs while crossing an international frontier.
It gave an estimate of 30,000 people who cross the border to get between home and work, 13,000 of them resident in Scotland.
Radical change
And what is on offer from the other side, supporting independence? Stephen Boyd, at the Scottish Trades Union Congress, has drawn attention to a brief mention of this in the economic case for independence published by the Scottish government.
It goes like this: "The Scottish government has already, within the devolved settlement, adopted a strong social partnership approach, working with the voluntary sector, unions, employer associations and employers directly.
"In an independent Scotland we could explore mechanisms to formalise the relationship between government, employer associations and employee associations.
"Bringing together labour market regulation and other employment-related areas could increase the ability to have more direct and constructive dialogue across all sectors important to Scotland's economy, including new and emerging sectors, such as renewables, and on key issues, such as the Living Wage.
"An independent Scotland could also consider the benefits of bringing together all employment related matters in Scotland under one body, with the possibility for Scotland to have its own Employment Rights Authority, similar to other countries, such as National Employment Rights Authority in the Republic of Ireland.
"As with the Combined Economic Regulator, this type of approach could result in greater consistency and stability."
Now, this is an interesting idea, but Stephen Boyd's take on it is that it has the potential to bring very radical change. If the idea is to adopt a labour market model closer to some in continental Europe, this could see national pay bargaining across the economy, including the private sector.
Social fabric
The trade unionist argues that could be a good thing, but quotes the OECD when it says you don't just bolt on labour relation systems. They come out of social and political fabric, and aren't easily changed by government action.
There's no history of national bargaining in Britain's private sector, and the partners in a continental-style, tri-partite worker-employer-government negotiation aren't well placed to take up that role.
Employer organisations are nowhere close to having the resource or sophistication necessary, and nor are unions, with only a small portion of the private sector signed up as members.
"Any initiatives to more heavily regulate or facilitate a more central role for collective bargaining in the Scottish labour market, under any constitutional scenario, will face stiff resistance," Stephen Boyd told a recent academic seminar.
As with every other proposal or claim that's made by proponents of independence, labour market reform is subject to the decisions of the post-independence parliament. And this idea is vaguer than most.
But at least it might open up some discussion about whether the end of this epic downturn could or should bring change to the low-regulation, high-mobility model that's developed since the 1980s.