Number of Scots in work hits four-year high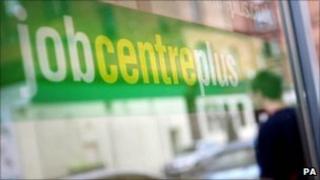 The number of Scots in work has reached its highest level for more than four years, according to official figures.
Office for National Statistics data for the period April to June showed a total of 2,531,000 people in employment.
The figure is 13,000 up on the previous quarterly figure and the highest total since early 2009, according to the Scottish government.
Meanwhile, unemployment in Scotland fell slightly between April and June.
The number of jobless fell by 1,000 over the three months to June, to stand at 198,000.
The Scottish unemployment rate is now 7.2%, which is below the average of 7.8% for the whole of the UK.
UK unemployment fell by 4,000 in the three months to June, and now stands at 2.51 million.
The number of people claiming Job Seeker's Allowance fell by 2,900 between June and July to reach 129,300. The figure is 12,600 lower than July last year.
'Encouraging news'
Scottish Secretary Michael Moore described the latest labour market figures as "encouraging news".
He added: "We are seeing some positive signs in our economy's recovery but it is important we keep focusing on creating the best conditions for growth and jobs.
"Investment is a key way to stimulate the labour market and we must use Scotland's capital spending power increase to £3.3bn in the last spending round to best effect."
‪Finance Secretary John Swinney said: "I welcome these figures that demonstrate further progress on Scotland's economy.
"The employment rate in Scotland continues to rise and is higher than the other three nations of the UK.
"Not only is the unemployment rate lower than this time last year, but the number of people claiming Job Seeker's Allowance has fallen to its lowest level since June 2009.
"Our youth employment rate is also surpassing that of the UK."
Scottish Labour's finance spokesman, Iain Gray, said an improvement in the unemployment rate was always welcome, but the time had come "to get past the headline figures".
He added: "We now know that many of the new jobs created are temporary, part-time or on zero hours contracts and people in jobs want to work more.
"Wages have fallen in real terms for 42 months in a row, unemployment for Scots women continues to get worse, long-term youth unemployment is 300% higher than only two years ago."
'Extremely welcome'
The Scottish Chambers of Commerce said it was "extremely welcome news" that Scotland's unemployment rate had resumed its downward trend, after rising by 8,000 in the previous quarterly figures.
Chief executive Liz Cameron added: "This is the latest of a wide range of indicators that is pointing towards evidence of a more broadly-based economic recovery in Scotland.
"We are not out of the woods yet, however, and government efforts to maintain the recovery will continue to be necessary over the coming years."
Scottish Trades Union Congress general secretary Grahame Smith commented: "These latest statistics confirm what the STUC has been arguing throughout 2013: unemployment in Scotland is stagnating at a high level.
"Following a significant fall in early autumn 2012, unemployment has hardly moved."
Mr Smith added: "This week has seen publication of more survey evidence supposedly confirming the strength of the UK's recovery from a prolonged period of economic depression.
"However, workers experiencing rapidly declining real wages and rising insecurity of employment certainly don't feel as if they're benefiting from an improving economy and labour market."