Home is where the buyer is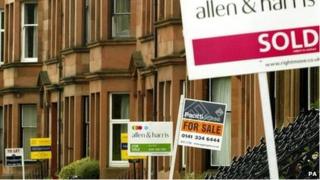 Remember 'sub-prime'? That was the riskier end of cheaper property lending in the US, with a market that began imploding back in 2007.
You may also remember that banks and others sliced, diced and bundled up those loans into hugely complex financial instruments.
That spread the risk, right? Yes, but not in the conventional sense. It meant that the toxicity of default was spread, rather than risk reduced.
So if the property market is showing signs of getting on the road to recovery, after the longest downturn in modern history, it represents quite an important staging post.
But of course, not everyone is pleased.
Rather like the banks returning to 'normal', plenty of people reckon that not enough punishment has been taken, the turnaround has been too easy, that heads haven't rolled, and that the last thing we should do is get back to the 'normal' of the years leading up to the downturn.
Fallen prices
The catch is that both the property market and the banking sector are intimately tied in with the financial health of the wider economy. And if they don't get back to some sort of health and equilibrium, then we all suffer.
It's worth separating the return of a healthy throughput of transactions, and the return of price increases.
Prices have fallen from their 2007 peak by around 15% in cash terms, and closer to 25% in real terms.
There is the argument that they need to fall further to bring them back into kilter with people's capacity to pay for homes and mortgages.
Even with the fall they've seen, and even if lenders have eased their requirements on deposits, the current level of prices remains a big ask for home-owners wanting to trade up, and much moreso for first-time buyers.
A better measure of the health of the property market is the number of transactions.
They fell by around half with the downturn. Sellers, buyers and lenders exited the market.
Now, there are signs they're coming back. The most recent Registers of Scotland figures, covering April to June, showed prices falling by 0.3%, but the number of completed sales up by 8%.
Edinburgh hotter
The latest from the Royal Institution of Chartered Surveyors tells a similar tale. Of its members reporting in July, there's been rising 'activity' by buyers - that is, asking for property details, and registering notes of interest in buying.
Prices have risen strongly in and around London, which is drawing in international investment funds. The latest RICS survey suggests prices might be starting to pick up elsewhere too.
Scottish surveyors are more positive about prices than any part of Britain outside south-east England. There's also a strong tilt in the balance of surveyors' opinion pointing to prices rising in the next few months.
Edinburgh Solicitors Property Centre, which covers one of Scotland's hotter property markets, is reporting May to July sales up by 24% on the same period last year.
The number of homes coming on the market is up over the year by 15%.
'Offers over'
And significantly, there are signs of a return to the conventional Scottish sales system of setting an 'offers over' price, from which buyers then bid blind.
With few buyers, so little competition, that system has rarely operated in recent years. Prices have more often been negotiated.
If 'offers over' return to health, that will be an interesting test of a big innovation introduced during the downturn, the introduction of Home Reports.
They removed the need for multiple buyer surveys. And the surveyors writing those reports can be more confident of their reckoning when there's a bigger throughput.
Of course, sceptics might think many of these figures about market sentiment and expectations are little more than wishful thinking from those with a vested interest in taking their cut.
But the hard-hit property sector - and it's a big employer - has learned that it shares with the rest of us an interest in a sustainable market, without bubbles, booms and busts.