House prices 'continue to rise' in Scotland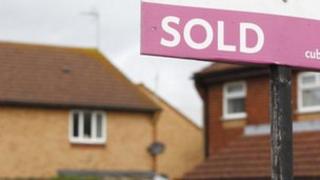 Housing prices and demand are continuing to grow in Scotland, according to the Royal Institution of Chartered Surveyors.
Its report said there was "a considerable rise" in the number of would-be buyers looking to enter the market in July.
The survey recorded a balance of 52% more chartered surveyors reporting increases in demand.
Rics also said buyers had gradually been returning to test the market.
Prices continued to increase in Scotland for the second consecutive month, with a balance of 39% more surveyors reporting a rise in prices.
Rics Scotland director Sarah Speirs said: "These results are great news for the property market as it looks like at long last a recovery could be around the corner.
"Growth in expected transactions and prices have been happening in some parts of the country since the beginning of the year, but this is the first time that everywhere has experienced some improvement."
'Greater availability'
He added: "In particular, it is encouraging that our results suggest greater availability of mortgages for first-time buyers in Scotland is being accompanied by higher loan-to-value ratios."
Price rises were not confined to Scotland, according to RICS, which found the majority of the UK also saw growth in this summer period.
Projections suggest that prices across the country are going to continue to go up.
A balance of 29% more Scottish surveyors predicted increases over the next three months.
Transaction levels are also expected to grow, as 60% more respondents predicted sales to rise rather than fall.
According to the report, alongside rising buyer confidence, the number of potential sellers looking to test the market and place their homes up for sale remained "solid".
'Optimistic for autumn'
Last month, 24% more respondents reported rises rather than falls in new instructions.
Alasdair Seaton, of DM Hall in Dunfermline, Fife, told the survey: "Sales are steady.
"No sign of increase in values yet but sales through early summer are consistent. The market is better than last year and we are optimistic for autumn."
Craig Henderson, from Graham and Sibbald in Glasgow, said: "The market has remained a little stronger over the last month, similar to what we have seen over the previous three months or so.
"Vendors are being realistic and in the sought-after locations prices at, or indeed, above home report values are being achieved.
"Flats prices remain challenging beyond the traditional good west end of Glasgow regions."
In a separate survey for the Edinburgh Solicitors Property Centre (ESPC), buyer activity in May, June and July was up 24% on last year.
More homes in the capital were coming onto the market, though prices were not moving.
It reported 83% of people questioned plan to buy a home in the next five years, double the rate two years ago.