Calmac ferry passenger traffic increases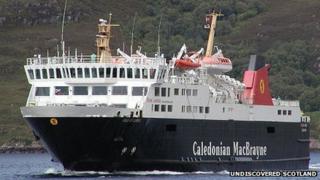 Ferry operator Calmac has revealed a substantial rise in July passenger numbers.
It carried an additional 100,000 passengers, compared with July 2012, an increase of 14%. Car numbers were up by 10% - an additional 14,000 vehicles.
Calmac's Firth of Clyde services saw the largest increase, with 19% more passengers travelling.
The company said the figures reflected good weather and promotional work with tourist bodies.
The most dramatic growth was on the short crossing between Largs and Cumbrae.
It saw passenger numbers up by 31% and car journeys up by 20%.
A Calmac statement said: "Of course good weather has been part of this, but we have been working very hard with Visit Scotland and local communities to promote the islands as a great day out for friends and families."