Pensions firm Aegon reports £11m loss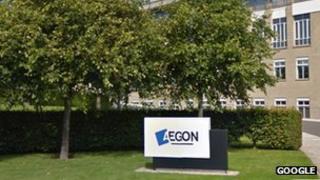 Life and pensions assurance firm Aegon UK has reported an £11m loss for the second quarter of 2013.
The Dutch-owned firm had pre-tax earnings of £12m for the first half of the year - down from £87m in the same period last year.
The firm has reduced its workforce as part of major restructuring which cost Aegon £27m in the second quarter.
The move followed disappointing results and came amid changes to the British financial adviser system.
The company also reported an £18m loss on the sale of its Positive Solutions arm, according to the results issued on Thursday.
Aegon, which has its UK base in Edinburgh, has closed sales offices in Glasgow, London, Guildford, Birmingham, Manchester and Bristol.
It said it expected that "business transformation" to continue into next year.
Pension plans
It also wrote off £13m in impairment charges, mainly due to "a single corporate exposure".
New life assurance sales were up 45% to £247m compared with the second quarter of last year. That was partly helped by the introduction of auto-enrolment into pension plans by larger employers.
One important development for Aegon UK last month was signing up as one of three preferred suppliers for workplace savings recommended by Mercer.
Meanwhile, volatile equity markets reduced Aegon's investment funds since the end of March by 3% to £56bn.
Adrian Grace, Aegon UK's chief executive, said: "We are making significant progress on our strategy of focusing on the workplace and at-retirement segments of the market. Underlying earnings are up to £23m for the quarter.
"We continue to divest businesses that are non-core to our future. We are also building and diversifying our workplace distribution capability and are delighted to have partnered with Mercers and Barclays in the first half of the year."
The wider financial results for the Aegon parent company in the Netherlands saw it suffer from hedging losses.