Standard Life sees record long-term savings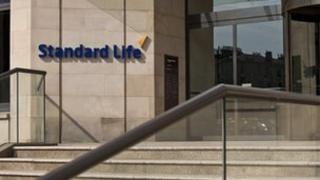 Edinburgh insurer Standard Life has reported long-term savings with half-year operating profit throughout the group up 6%.
The company made an operating profit of £304m in the first six months of 2013.
Long-term savings new business sales increased by more than £2bn during the period to £12.2bn.
Chief executive David Nish said the company had made "good progress" with increased sales and assets driving profits and revenues higher.
He added: "In the UK, through listening to our customers and developing propositions that meet their needs, we have significantly increased operating profit by 28% and have strong momentum in both our retail and corporate businesses."
The investment arm's third-party assets under management rose by 12% to reach £93bn.
Total assets under management were 7% higher at £233bn.
Standard Life Investments recorded a 37% increase in operating profit with net inflows of £7.1bn - more than half from outwith the UK.
The Scottish group said its Canadian division was making progress in transforming its business and its operations in India "continued to deliver strong performance" in a market where it saw "further opportunities".