New car sales up by 10% in Scotland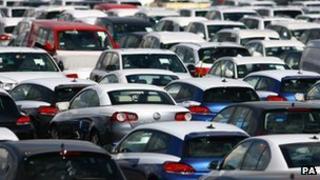 Scottish new car registrations rose by 10% last month, compared with July 2012.
They reached 13,253, while the UK as a whole saw growth of nearly 13%, reaching 162,228 registrations.
For the year so far, the growth in Scottish registrations since last year ran ahead of the UK, by nearly 14% to just over 10%.
The Scottish Motor Trade Association said the figures reflected an increase in consumer confidence.
Chief executive Douglas Robertson said: "We were strong in both the private and business sectors in July and we feel this reflects the increase in consumer and business confidence of the past few months.
"We remain confident that, as indicated last month, we will achieve our new forecast of 190,000 units for the year".
The Society of Motor Manufacturers and Traders, representing the trade throughout the UK, has raised its full-year target growth to 8.4% following 17 consecutive months of growth.
The top-selling brands in Scotland in July were Vauxhall with 14% of registrations, and Ford with 13%.
The biggest rises in Scottish registrations were in Grampian, the Highlands and Dumfries and Galloway, while the lowest was in the Borders.