Going for food-on-the-go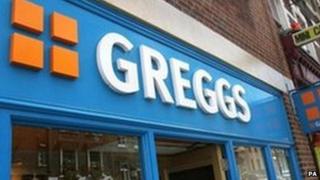 Greggs: it's one of those companies that's got under the skin of the nation's culture. Indeed, it reaches right into its stomach. Serving up cheap comfort treats, this is a big corporate that's won a sort of affection.
Scots can often be surprised to find that its roots are on Tyneside, where it's known for its ham and pease pudding stottie more than its Scotch mutton pies.
Along with supermarkets, it's contributed to the eclipse of several regional bakers in Scotland.
I grew up with Crawford's in Edinburgh, which closed its doors in 1996. Auld's, based in Greenock and in 24 towns in central Scotland, has faced losses in recent years.
Only last month, Bradford's, based in Eastwood, went bust with the loss of 100 jobs.
And I recently interviewed Pamela Chalmers, whose family chain of bakers in north-east Scotland is having a tough time adapting to competition from in-store supermarket bakeries.
Down-shifting
Greggs had a good start to the downturn. It benefited from people downshifting to cheaper forms of food. Likewise, Devro, the Lanarkshire sausage skin maker.
Neither of them is looking so good now. In Greggs, the new chief executive, in charge of the firm's mighty dough-mixer, has confirmed what recent numbers showed - that the financial ovens aren't firing properly.
The fall in footfall has harmed sales. With nearly 1,700 outlets, mostly on conventional shopping streets, the firm depends overwhelmingly on people going out to the shops.
So it suffers when people aren't doing so. The firm's half-year figures point to a problem when cold weather kept people from the shops. And people had less appetite for their produce when the weather turned warmer.
Like-for-like sales in existing outlets are down 3.3% on last year, with pre-tax profits falling £4.6m to £11.4m.
Other shops are moving to online sales to make up for the dip in pavement traffic. But there's something about a steak bake from Greggs which doesn't sound so appealing when it's posted to you for delivery later this week. So that's not much of a strategy.
It has, instead, put its products into Iceland's freezers.
Pasty tax
The baker has also seen demand shift towards people coming in for what's known as food-as-you-go.
That sector is reckoned to be worth £6bn a year in Britain, with growth at around 9% per year. About half of that is reckoned to be sandwiches, with an estimate of 1.7 billion sandwiches bought in Britain each year.
As the chancellor found out last year when he tried to put VAT on hot snacks such as pasties and pies, food-as-you-go is not just a big part of British eating these days, but a vociferous one. The pasty and pie brigade bit back, and the VAT plan was bagged and sent to landfill.
Greggs is admitting that it's fallen behind on this food-as-you-go sector. And that's even though 75% of visits are for that very purpose (as opposed, it seems, to getting a loaf of bread and some sticky buns for tea).
According to a study of Hazlewood, a major supplier of fresh sandwiches, bakers have only around 17% of the pre-prepared sandwich market. The big multiples have 22%, cafes and sandwich bars have 23%, while work canteens have 14%.
Afternoon snacking
Greggs' answers to this low share of the market, as outlined by new boss Roger Whiteside, point to ways in which consumer habits are changing.
So the bakery staff are coming in earlier to make sandwiches for early birds, who buy both their breakfast and their lunch in one visit to a shop.
And there's more afternoon snacking, we're told. So some Greggs shops are staying open later.
The company's also trying to improve quality. The latest company filing to the stock exchange reassures us that the filling of the steak bake and the sausage and bean pie has been improved with more such changes 'in the pipeline'.
But its attempt to challenge the big beasts of the coffee world has come to an abrupt halt. The trials of 'Greggs Moment' has had its moment, and the coffee offering is now being folded into its push for more sit-in cafes.