Schuh firm announces London expansion plans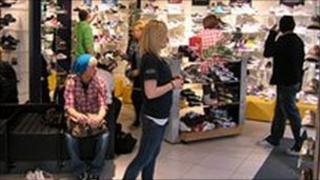 Scottish footwear company Schuh has announced plans to expand its business in London.
The Livingston-based firm is to establish three new stores in the city, as part of a wider growth plan.
A total of 18 new shops are scheduled to open across the UK by the end of the year.
At the weekend the company's first standalone ahop in a retail park began trading at the Fort Shopping Park near Glasgow.
Two of the new London stores will be located on Oxford Street, with the third planned for the Jubilee Mall at Canary Wharf.
Phil Whittle, head of store operations, said: "As a retailer who started life in Scotland 32 years ago, these three London signings form part of our wider five-year strategy to increase our southern footprint and gain market share in the capital.
"We already have one very successful store on Oxford Street, where we have traded since 2004, and are delighted that these three new stores will give the London shopper even more exposure to Schuh and more choice about where to buy their shoes."
The footwear firm currently has more than 90 stores throughout the UK and Ireland.
In 2011, workers at Schuh shared in a windfall of more than £37m.
The payments to employees were announced after a takeover of the firm by the US group Genesco in a deal worth more than £125m.