Orkney's Hatston pier sees 'unprecedented tidal energy sector activity'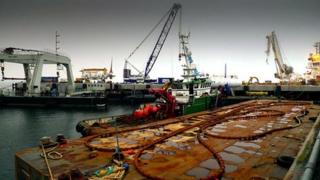 An £8m extension project at a pier in Orkney is behind an unprecedented level of activity in the tidal energy sector, it has been claimed.
Orkney Islands Council said Hatston had become Scotland's longest commercial deep-water berth after April's opening.
Five tidal energy developers have been using the facility.
Council vice convener Jim Foubister said: "It is great to see such a high level of activity so soon after the completion of the pier extension."
He explained: "Without the extension, it would have been impossible for so many companies to have sufficient space to work alongside each other as they prepare their turbines for sea."
World-leading array
Eileen Linklater, client relationship manager at the European Marine Energy Centre (EMEC), said: "At no other site in the world would you find such an array of tidal energy devices than at the quay at Hatston."
The pier is on the outskirts of Kirkwall.
The council project attracted £3.2m in support from the European Regional Development Fund.
As well as supporting the marine renewable energy sector, Hatston also serves as a berth for a variety of vessels, including ferries, cruise ships and those serving the offshore oil and gas industries.