Ofgem outlines national grid charges overhaul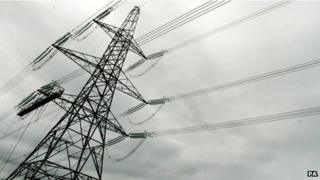 The cost of linking wind and marine renewable energy to the national grid from remote parts of the UK is set to fall from next April, while charges in the south are to rise.
Industry regulator Ofgem has announced plans to cut the charges per unit of electricity for firms generating power in the north of Scotland.
Charges for putting power into the grid in that area are currently high.
They have been seen as a barrier to renewable energy investment.
By contrast, the south of England receives a subsidy per kilowatt to encourage generators to build conventional power stations close to customers.
Green incentives
In a statement, Ofgem said it was "minded to approve" a change to the methodology for calculating what generators pay to use the electricity transmission network across the UK.
Ofgem has reviewed the charges in an effort to create incentives for more green energy.
Charges for Scottish islands had been left out of its previous plans, but Ofgem now says they will fall too - although not to the same level as the mainland because of the cost of subsea links.
Ofgem's indicative modelling suggests that mainland network charges for wind generation in the north of Scotland would reduce by about 50%, from £25/kW to £12.21. Island renewable generation would also benefit.
Transmission charges for generators and suppliers are set by National Grid, using a formula approved by Ofgem.
Tariff changes
In a statement, Ofgem said its aim was to "facilitate the timely move to a low carbon energy sector, while maintaining a robust and efficient supply of electricity across Britain's high voltage network".
It added: "This proposal will narrow the difference in generation tariffs between the north and south of Britain.
"Tariffs in the north will decrease whilst tariffs in the south will increase relative to the status quo."
Responding to the announcement, industry body Scottish Renewables said the proposals were "a positive step forward" for renewable projects on the Scottish mainland, but added that charges would still be significantly greater than in the rest of Great Britain.
Chief executive Niall Stuart added: "Disappointingly, these changes will not result in a single project being taken forward on the Scottish islands - home to Europe's best wind, wave and tidal resources.
"We still therefore need the UK government to see through its commitment to introduce a financial support mechanism specifically for the Scottish islands to help them manage the burden of continuing high transmission costs."
'Heavy campaigning'
SNP MSP Mike MacKenzie welcomed the announcement as "a step in the right direction".
He said: "The improvements that are being announced are the result of heavy campaigning by Scotland's energy sector and those who want to see renewables flourish, and should be considered a significant victory on their part.
"That said, it is a disappointment that Ofgem remain fundamentally wedded to a system that subsidises generators in the south of England while landing those in Scotland with the highest charges in the UK."
Scottish Liberal Democrat energy spokesman Liam McArthur also welcomed the Ofgem move.
He said: "When it comes to renewable energy, we know that Scotland has huge potential but the current system of transmission charges risks blocking investment and making it harder to create sustainable green jobs in our island communities.
"Any move, therefore, to reduce the costs of harnessing the renewable energy potential of our islands is welcome but we need to ensure that it results in a level playing field for isles-based developers."
Ofgem has launched a consultation on the proposals, and plans to publish a final decision at the end of the year.