Power firm Aggreko in temporary profits dip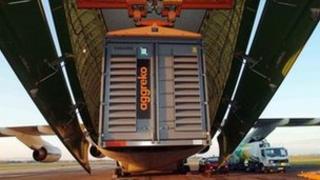 Temporary power firm Aggreko has reported lower profits due to "subdued" trading in its power projects division.
The Glasgow-based firm saw pre-tax profits fall by 2% to £146m in the six months to the end of June.
Revenue for the period was up 4% to £760m.
The company said its full-year trading was in line with expectations and it anticipated revenues in power projects to be higher in the second half than in the first.
In contrast, Aggreko's local business division, which rents out products ranging from small generators to large cooling plants around the world, saw revenues increase by 9%.
Chief executive Rupert Soames said: "Our local business, representing some 60% of revenues, delivered strong underlying revenue growth and margins strengthened.
"Trading in our Power Projects business was, however, subdued relative to its historic performance, with revenues flat on the prior year and margins weaker."
The company said it now expected to spend about £240m on fleet capital expenditure for the full year, close to half what it spent in 2012.
Mr Soames said this "disciplined approach" was expected to deliver strong cash generation.