Toasting growth with a dram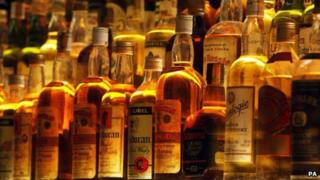 Diageo's full-year results tell you a lot about the Scotch whisky industry, which it dominates.
Since it secured control of United Distillers in India, which controls Glasgow-based Whyte & Mackay, its share will now be more than 40% of production. Since the Office of Fair Trading is now taking a look at that takeover, it may yet shed some of that.
The Diageo accounts also tell you a bit about the shape of the world economy. With Johnnie Walker hitting 20m cases (that's 180m litres, and double what it was 10 years ago), it's become a sort of barometer of the new middle class.
Because the marketing is pushing towards (that hideous word) premiumisation, you can see where the middle class is developing higher end tastes.
But you will also note this is more evidence that the whisky industry, 80% controlled outside Scotland, is seeing growth in profits but only around half that growth in volume. And as I've pointed out before, volume growth is the bit that benefits the Scottish economy with bottling, warehousing and distribution jobs.
The whisky element of Diageo's results saw 9% growth in sales during the year to June, but volumes were up by 6%. That continues a trend, and premiumisation is the strategy.
Indeed, Diageo has been buying distillers of spirits with roots in markets round the world, recently including Vietnam, Turkey and Brazil.
The aim is to use those distribution channels to extend their global brands, backed by big marketing spend.
Super premium
The firm is big in brands, and after putting on a million extra cases in the past year, Johnnie Walker is now the world's biggest spirits brand. With its roots in Kilmarnock, though it's no longer bottled there, it illustrates that global story.
The starter level of the brand, Red Label, was up 8%, growing strongly in the fast-emerging African market. Johnnie Walker was up 22% across the continent, and Johnnie Walker was up 63% in Nigeria.
But in the USA, Black Label and "super premium variants" above that, are picking up pace, including Blue Label, Platinum Label, Gold Label, Odyssey and Explorers' Club.
Single malts are up 17%, led by the Singleton and Talisker, distilled on the Isle of Skye, with 36% and 30% growth.
And in Latin America, Johnnie Walker's doing well, but there's entrenched regional strength also for Buchanan's, for which volume is up 11% and sales up 25%. Venezuela and Mexico led the way.
The good years in the Mediterranean markets saw the growth of a strong taste for Scotch, not least in the young, nightclub market. But that's now looking dire, no less so in the most recent Diageo figures. With Greek youth unemployment today shown to have risen yet again to 59%, it's not hard to see why.
J&B is a brand that's done well in southern Europe, and it's been hard hit by the economic problems there, down 15% overall.
The PIGS - Portugal, Italy, Greece and Spain - are down to only 3% of Diageo sales. J&B was down 30% in those troubled countries, while across Europe, it was down 18% by volume.
Another barometer of weak eurozone economies, sales of Guinness, a Diageo brew, were down 5% in Ireland last year. (In Britain, Guinness was down 3%.)
Over-gifting
But look further into the figures, and you can see change affecting that rapidly-growing middle class in emerging markets. Brazil's economy has suffered a sharp slowdown. In the drinks industry, there's a crackdown on drink driving, and closure of nightclubs in response to a horrific deathtoll in a fire last year.
Diageo sales suffered, though it grew market share, and the Old Parr brand put on sales at the premium end.
There was speculation that Diageo's push into the raki market in Turkey was unfortunate or unwise, at a time when alcohol was being squeezed by a government that's taking a more conservative line for religious reasons. There's not much sign of that harming sales of Yeni Raki or imported booze.
And China's worth a look. The new administration in Beijing is running a campaign to discourage over-generous gifting, as it bleeds into full-on corruption, and that's linked to disapproval of conspicuous consumption.
Sales of Scotch in India continue to disappoint Diageo while local spirits are protected by sky-high tariff barriers. With a 25% share in United Distillers, the company now has control of the biggest distiller behind those barriers. And it also has an interest in the most extensive Indian distribution channels, so you could expect to see growth there.
Growth of the Chinese economy is still boosting whisky sales there, but Diageo is reporting that change of culture is affecting sales. Its total sales were up 1% by volume last year, while value was up 8%.
Despite the "anti-extravagance campaign launched by the government in China, super and ultra premium segments grew 44%, driven by Johnnie Walker and Windsor".
Diageo is not alone. Other distillers have noted the impact of the cultural change. As I've reported before, the Edrington Group (Famous Grouse and Macallan) has noticed the effect. And in recent results from Remy Cointreau, which recently paid a lot for Islay's Bruichladdich distillery, it's the same story across its drink brands.
It might be worth watching out for that affecting other extravagant products.