Muller Wiseman confirms Keith and Whitburn depot closures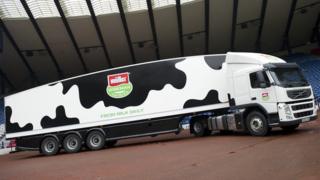 Fresh milk processor Muller Wiseman Dairies has confirmed it is to close two depots before the end of the year, with a net loss of 58 jobs.
The company said it would wind down operations at Keith and Whitburn and gradually transfer distribution to depots in Aberdeen and Cambuslang.
A total of 23 posts will go in Keith and 116 at Whitburn.
At least 81 new posts will be created with the distribution move - 13 in Aberdeen and 68 at Cambuslang.
Muller Wiseman said the decision to close the depots, which followed a strategic review and formal consultation process, was prompted by "significant reductions" in the number of delivery runs from each site
The company said "where opportunities exist", it would ensure that posts were offered to staff from Keith and Whitburn who wished to transfer.
'Initial incentives'
It added that "initial incentives" had been put in place to compensate for extra travel-to-work costs.
Muller Wiseman managing director Carl Ravenhall said: "Employees, management and unions worked extremely hard to find ways of addressing the challenges facing these depots, but we have been unable to establish an economic basis for continuing to distribute milk from Keith or Whitburn.
"We very much regret the impact that this decision will have on these areas but we have to adapt to changes in the way that fresh milk is being distributed.
"It is our hope that colleagues based at Keith and Whitburn will consider taking up positions which will be created in Aberdeen and Cambuslang."
Lothian MSP Neil Findlay said he was saddened to hear confirmation of the closure of Muller Wiseman's Whitburn depot.
He added: "This represents another blow to the wider West Lothian economy.
"I do note however that there will be opportunities for many of the workers at Whitburn to transfer employment to Cambuslang."