Scottish high street sales continue to rise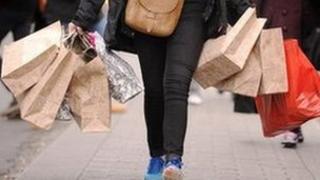 Scottish retail sales have increased for the second quarter in a row, according to new official figures.
The total value of products purchased in shops grew by 3.6% over the year and by 0.9% on the previous quarter.
The amount of goods bought rose by 2.4% on the same period last year - above the 1.7% recorded for Great Britain as a whole.
Finance Secretary John Swinney said the figures showed "an encouraging sign of increasing consumer confidence".
He continued: "Our retail sector makes up over 5% of Scotland's economy so it's good news to see trade picking up for the second quarter in a row.
"Scotland also shows an increase on sales over the year when compared to the rest of the UK.
"This is further positive news for Scotland's economy following GDP figures which showed a 1.2% growth, and labour market statistics showing Scotland has a higher employment rate, lower unemployment rate and lower inactivity rate than any other nation in the UK."
'Tough time'
Mr Swinney added: "However, it remains a tough time for the retail industry.
"Low income growth is still limiting consumers ability to spend so increases in retail sales are likely to be limited until the recovery gains pace."
Analyst Euan Murray, from Barclays Corporate Banking, said increased footfall was driving higher sales, particularly in fashion and footwear.
He added: "The summer heat wave is no doubt going to have a huge impact on sales of consumer goods, and we remain confident that this will only further encourage growth in the market in Q3."
CBI Scotland assistant director David Lonsdale said: "A return to even modest levels of consumer spending is welcome, however confidence is unlikely to bounce back fully until the recovery becomes entrenched and family finances improve significantly.
"Government at all levels can assist by keeping a firm lid on those costs under its control which impact on retailers."