Moodiesburn sausage skin firm Devro reports profits fall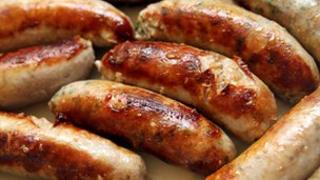 Sausage skin maker Devro has reported a sharp fall in profits, despite a rise in sales.
Strong demand in emerging markets boosted revenue by 3.1% to £118.9m in the six months to the end of June.
But operating and pre-tax profits both fell sharply.
The North Lanarkshire-based company blamed the fall on raw material cost increases and "temporary manufacturing issues" in the USA earlier in the year, which had now been resolved.
In an interim statement, Devro reported operating profit fell by 12.8% to £17.9m while pre-tax profit fell from £18.9m to £16.2m.
The Moodiesburn-based firm said the global market for collagen casing continued to expand as economic growth and urbanisation was leading to increased meat consumption in emerging markets.
However, it added that developed markets had been more challenging in the first half due to a combination of market conditions and cold weather in Europe.
Devro said its long-term prospects in China remained "very attractive, as the consumption of sausages is expected to grow for many years".
Meanwhile, overall sales of its premium Select product continue to grow and now represent 8.5% of total revenues.
Czech plant
The company has nearly completed a £25m capital expansion programme at its plant in the Czech Republic, one month ahead of schedule and within budget.
The project will add 9% capacity, compared to the group's total in 2010 when the work started.
Devro chairman Steve Hannam said: "Despite the first half challenges Devro has succeeded in growing sales and adding production capacity which will position it well for the future.
"With operations performing well at all manufacturing sites and the new Czech capacity due on stream in August, the board remains confident of a strong second half and growth in full year earnings."