Renewables workers' wages 'growing faster than oil and gas pay'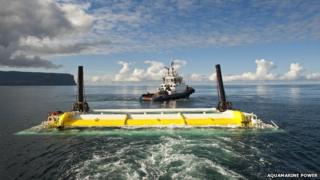 Workers in the renewable energy industry are seeing their pay grow at a faster rate than their counterparts in oil and gas, a survey has suggested.
The figures come from the latest quarterly report on wage growth, by recruiters oilandgaspeople.com.
It found that pressure on jobs in the sector led to an increase in wages in some specialist posts of more than 30%.
The report compared more than 20,000 jobs in the energy sector over a three-month period.
It found that wages for engineers in fuel cells had increased by 33%, wages for biomass had gone up 18%, geothermal up 9%, solar 8% and tidal 11%. The smallest increase was in wind power, which only saw a 0.5% increase in wages.
The researchers found that this growth rate was much higher than the traditional energy sector, which saw average increases of 5% in jobs in North Sea Oil and Gas over the same period.
However, some jobs in the sector that are experiencing a shortage of qualified staff to fill the posts also rocketed during the period, with day rates for well supervisors and drill superintendents up 15% and 17% respectively.
Kevin Forbes, oilandgaspeople.com chief executive, said: "The uncertainly over investment in renewables recently has only hit the wind sector, which is no surprise.
"Despite subsidies increasing by 10% under the government's reforms of the electricity market next year, the 'contracts for difference' will run for only 15 years compared to 20 years under the old system.
"Employment levels are now stable in the sector, but with continuing uncertainty over investment, wages will see small increases for some time."
'Huge jump'
He added: "While the wages in the fuel cell industry have seen a huge jump, this is no surprise as 2012 was a breakout year for the sector with many companies seeing profit for the first time
"With increased investment and annual installed capacity set to top 200 MW in 2013, the big utility companies are now taking this sector very seriously."
He said the 5% overall wage inflation in the North Sea oil and gas industry for the last three months was impressive and looked set to increase faster in the next six months as new investment continued to come into the industry.
"There is a lot of press around North Sea Oil being in decline, but the truth is there is still 30 - 40 years left in the North Sea and that estimate increases all the time as new fields are discovered and come online," he added.