Highland Wagyu beef firm in expansion drive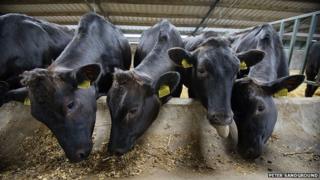 A Perthshire firm has set its sights on becoming Europe's largest producer of the world's most expensive beef, after announcing major expansion plans.
Highland Wagyu has bought an entire herd of 300 Wagyu cattle from a Perthshire farm for an undisclosed sum.
The company, which is based at Blackford Farms in Perthshire, said it was now the UK's largest producer of Japanese full-blood Wagyu beef.
The sought-after meat can fetch up to £250 a kilo.
Highland Wagyu already has a 250-strong herd, 150 of which are in calf.
The business, which is owned by Mohsin and Martine Altajir, aims to reach 1,500 head of cattle by the end of next year.
Surrogate mothers
Mr Altajir said: "I believe that Wagyu is the best beef in the world and the future of the beef industry in this country.
"We will make Scotland the Wagyu centre of Europe."
Mrs Altajir added: "Wagyu's are seen as delicate cattle but they're flourishing on the Perthshire grassland.
"We feel it's the best place to breed the animals and we've invested in creating the right buildings to house them.
"We're focusing heavily on breeding full-blood Wagyu using native animals, who make excellent surrogate mothers, but we've also started to cross our Wagyu with other breeds on the farm with much success."