Highlander Snacks to close factory in Bathgate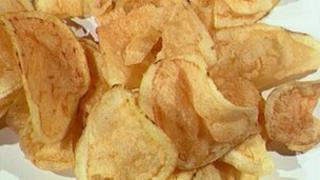 West Lothian is facing another jobs blow following news that a crisp producer is set to close its factory in Bathgate, with the loss of more than two dozen jobs.
Highlander Snacks, which is owned by a subsidiary of Italian firm San Carlo, is to shut down operations on 31 July.
A total of 28 jobs will be lost at the factory, which once employed up to 150.
About 1,700 jobs were shed in West Lothian in February with the closure of the Hall's of Broxburn food factory.
Staff at Highlander Snacks had been aware for some time that the plant might close, according to a well-placed source.
It is understood that production will be moved to Italy.
Highlander Snacks was formed in 1987 by management and staff after Golden Wonder pulled out of Scotland, and was later bought by San Carlo subsidiary Unichips.
'Sympathy and support'
Highlander staff are being helped to find new jobs under a scheme set up by the Scottish government and West Lothian Council following the announcement that the Hall's of Broxburn plant would close.
West Lothian Council's executive councillor for development and transport, Cathy Muldoon, said: "We would like to offer our sympathy and support to the 28 staff and their families affected by the closure of the Highlander Crisps plant in Bathgate, following the decision by owners San Carlo to centralise production in Italy.
"West Lothian Council is working to support local workers and their families through Pace (Partnership for Continuing Employment) teams, which are working with Highlander staff to help them look at their opportunities for employment or retraining."
Last December, it was announced that up to £29m would be made available as part of a five-year economic development package for West Lothian.
The Scottish government said then that the package would help create 3,000 jobs.
Meanwhile, dairy firm Muller Wiseman is continuing to consult with staff and unions over the possible closure of two Scottish depots, including one in Whitburn, with the loss of up to 141 jobs.
The consultation period is due to end on Sunday, after which the company said it would "examine the options available to it".
It is hoped some of the staff may be able to transfer to Aberdeen or Cambuslang.