Hot weather boosts sales for Irn Bru maker AG Barr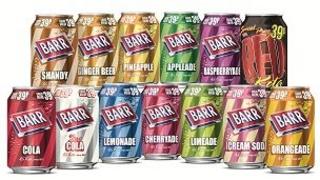 The maker of Irn Bru has reported a surge in sales on the back of the recent spell of hot weather.
Cumbernauld-based AG Barr said sales momentum grew in the second quarter, rising by 9.8%.
It attributed a lift in core brand sales to the "positive impact of weather from late June onwards".
It is now expecting revenue of about £127.5m for the half year to 28 July, an increase of 4.9% on the same period last year.
AG Barr's core brands include Irn Bru, Barr, Rubicon and KA.
In a trading update, AG Barr reported it had "continued to grow well ahead of the market" over the past six months.
It said first-half margins had improved on last year as a result of new product development and innovation, less volatile input costs and modest improvements to pricing.
Looking ahead, the company stated: "Our core brands continue to respond positively to further investment and development.
"The soft drinks market has benefited from the recent excellent weather conditions experienced across the UK."
'Very competitive market'
He added: "We anticipate that in the second half, regardless of the weather, the market will continue to be very competitive as promotional intensity is expected to mirror the significant activity experienced last year."
AG Barr also reported it had started producing cans at its new Milton Keynes facility ahead of schedule.
It now plans to increase output over the course of the second half.
Earlier this month, the soft drinks firm announced it would not make a fresh bid for rival soft drinks firm Britvic.
AG Barr struck a deal on a merger with Britvic last year, but it was delayed by a Competition Commission inquiry.
By the time clearance was finalised in early July, the deal had lapsed and Britvic had backed away from renewing it.
AG Barr made a renewed merger proposal on improved terms, but that was rejected.