Rise of 16% in Scottish inward investment projects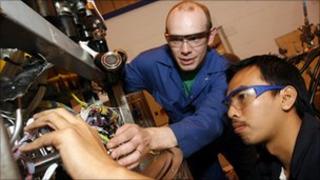 The number of foreign direct investment projects in Scotland increased by 16% in 2012-13, according to official figures.
UK Trade and Investment said the figure for the UK as a whole rose by 11%.
The UK government's Trade and Investment Minister Lord Green called the figures "a vote of confidence" from foreign investors.
The Scottish government said the statistics showed firms were not being deterred by the independence debate.
A total of 111 projects in Scotland attracted overseas money last year, up from 96 the previous year.
Although Scotland performed better than the UK as a whole in increasing the number of projects last year, it fell behind Northern Ireland and Wales.
The number of projects increased by 41% in Northern Ireland and by 191% in Wales.
'Globally attractive'
Commenting on the figures, Lord Green said: "The UK has received a major vote of confidence from foreign investors, confirming that the UK remains a world-leading business destination.
"Attracting foreign investment is an important element of the UK government's economic and growth programme, and UKTI will continue to work with companies to help create and sustain a globally attractive, highly competitive and truly international economy."
The Scottish government said the figures showed that the possibility of independence for Scotland had not reduced inward investment.
Finance Secretary John Swinney said the UKTI report "provides welcome recognition that Scotland is out-performing the UK at securing inward investment".
He said: "This report shows that Scotland reported record numbers of FDI projects in 2012/13, which demonstrates the continued attractiveness of Scotland as a place for investment and growth as we approach the referendum.
"With the full fiscal and economic powers of independence, the Scottish government could do even more to strengthen international investment."