Aberdeen firm EnerMech in £10m double acquisition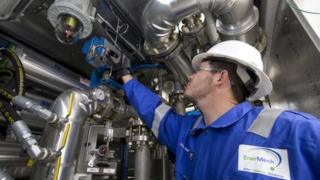 Mechanical engineering group EnerMech has strengthened its position in the Australian energy sector after buying two companies in deals worth a combined £10m.
The Aberdeen-based firm acquired Australian industrial sector firm Vicon Services and UK-based pump equipment specialist Total Reclaim Systems Ltd.
Vicon is EnerMech's second Australian acquisition this year.
In January it bought Melbourne-based Valve Tech Engineering.
Vicon, which has more than 100 staff and last year reported turnover of £12m, provides engineering services including high pressure water-jetting, heat exchanger services, coating systems and chemical services.
Great Yarmouth and Aberdeen-based Total Reclaim Systems (TRS) provides mud pit and tank cleaning services for offshore oil rigs and production platforms.
Enermech said that acquisition would allow its drilling support services division to increase the range of services it offers clients.
'Very good deal'
Vicon Services managing director Niall Conlon described its acquisition as "a very good deal for both companies".
He added: "From Vicon's perspective, it's like having a big brother with a larger balance sheet and more fire power.
"Our focus has always been to be a one-stop shop and to provide a seamless service for the client and now, with EnerMech's portfolio of products, we can do even more of that."
EnerMech finance director Michael Buchan, said: "Vicon's first class reputation for quality of service was a strong attraction to us and it has skills and services which align very well with our own.
"Australia is a key market for EnerMech and the deal sends out a strong signal to the energy sector that we are serious about investing there and will use our extensive resources to deliver a more integrated and cost-effective service to our clients."
In May, Enermech said a major expansion drive in the US and Mexico was paying off, after picking up £6m worth of contracts for next year.
The company has invested £13m in the two countries since launching a growth plan last year.
It includes a new workshop and storage facility near Houston's energy corridor and a new base at Villahermosa, Mexico.