Cupid plc sells 'casual dating business' for £45.1m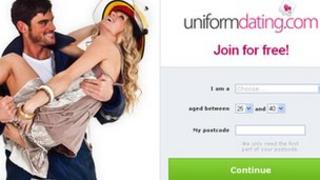 Online dating company Cupid has agreed to sell its "casual dating" business to a firm run by one of its co-founders in a deal worth £45.1m.
The Edinburgh-based firm said it was selling the business to Grendall Investment Limited in order to focus on its niche and mainstream sites.
The deal includes casual dating sites such as Benaughty.com and Flirt.com.
It also includes a separate software licensing agreement with Grendall, worth £2m.
Grendall, which is registered in the British Virgin islands, owns a portfolio of online dating sites and is managed by Cupid co-founder and 15% shareholder Max Polyakov.
Cupid will continue to operate a number of mainstream and niche dating sites, including Cupid.com, Amour.com, UniformDating.com and Canoodle.com, as well as a number of international sites.
It will also continue to run dating events business Speeddater.com.
Cupid's share price climbed by more than 16.5% on Monday to stand at 84.5p.
'Rewarding area'
In a stock market announcement, the company said it had decided to sell its "casual dating" sites because they did not fit in with its long-term strategy.
It said: "Cupid plc believes that in niches and mainstream dating, customers are demanding increasingly higher quality and that this can be a rewarding area for the company to focus its efforts.
"By contrast the company believes that the casual market consumer ultimately requires the potential for more adult oriented content and that moving towards this end of the spectrum of dating is not a route that the company wishes to pursue.
"Over the past few years, Cupid plc has increasingly invested M&A (merger and acquisition) activities towards niche community sites and mainstream dating sites such as UniformDating.com and Cupid.com respectively, and then invested heavily in these sites post acquisition.
"The company believes that such sites have stronger long-term potential, and building an international portfolio of niche and mainstream online dating sites makes for a better quality, more sustainable businesses in which to invest."
It added: "As such the casual sites do not fit within this approach and the board believes that realizing cash from their sale to a party focused on owning such assets is a very positive step for Cupid plc."
'Positive step'
Cupid chief executive Bill Dobbie said the disposal was a "significant positive step" for the group.
He added: "The proceeds from the sale will allow us to further enhance the remaining group by strengthening our brands and also improving and widening the customer proposition.
"The consideration also gives us the potential to provide shareholders with further returns."
Cupid said its main markets - the UK, mainland Europe, North America and Australia - would remain unchanged.
The disposal includes the sale of 100% of the share capital of Cupid plc's Cyprus-based subsidiary companies, Yarra Limited and EZD Limited, which operated the group's European casual dating sites.
In 2012 the casual dating arm's assets generated total sales of about £51m, with the rest of the group recording sales of about £29.8m.
BBC investigation
Earlier this year, Cupid denied creating user profiles on its websites to entice new customers to sign up, following an investigation by the BBC's "5 live Investigates".
It later said an independent report did not find any evidence that the company used fake profiles to boost its membership.
However, the report by auditors KPMG found that Cupid's staff were not clearly identified, which led to confusion for customers.
As a result Cupid's "motivation" team was replaced by "dating advisors".
Cupid also recruited new senior staff in the UK and said it planned further management changes this year.