Edinburgh airport backs calls for new runway at Gatwick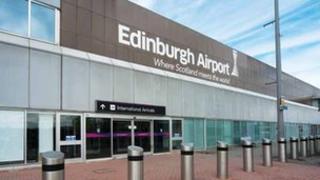 Edinburgh airport has called for increased air capacity in London which it said could easily be delivered at Gatwick in west Sussex.
The Scottish airport is backing calls for a second runway at Gatwick instead of a third at Heathrow.
The comments came in a submission to the Airports Commission which is looking into the issue of capacity.
It said increased new capacity in the south east of England was a priority and important for Scottish air links.
The Sussex airport has already proposed a "constellation" system whereby over time, Gatwick, Heathrow and Stansted all operate a two-runway model.
Edinburgh described this system as "realistic" and said it merited "further serious consideration" and could be delivered in the "short-term".
Scottish links
It has been argued that building a second runway at Gatwick would affect fewer people and ultimately provide more competition for customers and bring ticket prices down.
Edinburgh airport said Heathrow's position in West London meant it would be difficult to "ever build sufficient capacity".
Gatwick and Edinburgh share the same owner although the Scottish airport said it operated independently.
Edinburgh said Scotland's continued access to developing long-haul markets depended upon its connections to large London airports and it was its view that its needs were "better served" by spreading the "risk" across multiple airports.
And it also said encouraging airport and route development outside London would be beneficial by giving direct access to and from international markets and would also relieve pressure on the south east of England.
Glasgow Logo
Meanwhile Glasgow airport has launched a new logo with the accompanying strapline - Proud to Serve Scotland.
The airport is currently investing £17m in the terminal ahead of the 2014 Commonwealth Games.
Glasgow Airport said it would be the "gateway to the Games" and the new logo was a "key part of its extensive preparations".