Signs of Scottish 'growth spurt', PMI survey finds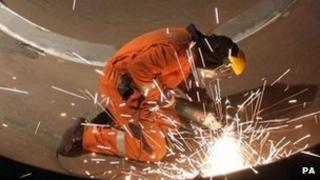 Scottish firms have reported the fastest rise in business activity since May 2007, according to a survey of purchasing managers.
The Bank of Scotland's PMI report for June indicated growth in the private sector accelerated sharply at the end of the last quarter.
The month saw marked increases in new work, leading firms to hire more staff.
The survey also showed a marked rise in both factory output and service sector activity.
The findings provide further evidence of a strengthening economy north of the border.
Last week, Scottish motor traders forecast that 2013 could be the best year for new car sales since 2007, while the Ernst & Young Scottish Item Club recently revised upwards its prediction for growth in the Scottish economy this year by 0.1% to 0.8%.
The Bank of Scotland PMI rose in June for the third straight month to 57, up from a reading of 54.4 in May. Any reading above 50 indicates growth.
The reading suggested a slightly faster expansion in output north of the border than across the UK as a whole over the month.
New business
June saw a survey-record increase in the level of new business placed with firms in Scotland.
Growth was mainly driven by resurgent domestic demand, with manufacturers recording a further loss of new business from clients overseas.
Reasons given by panellists for June's fall in new export orders included unfavourable exchange rate movements and a lack of demand in key export markets.
Increased workloads and improving pipelines of new work encouraged businesses to hire additional staff in June, extending the current sequence of net job creation in Scotland to seven months.
The rate of increase in employment was the fastest since April 2012.
Work backlogs
June's marked growth of new business contributed to a rise in backlogs of work at Scottish firms - the first such increase in 22 months, according to the survey.
Increased workloads prompted services firms in Scotland to take on more staff for a 13th straight month.
More than one-third of the survey panel recorded a rise in new work over the month, compared with 13% that noted a reduction.
June data also pointed to a further increase in production at Scottish factories.
About three-times as many firms reported a rise in output as those that registered a decrease.
Bank of Scotland chief economist Donald MacRae said: "Both the services and manufacturing sectors recorded rising activity and output, accompanied by growth in employment.
"This growth spurt is domestic-based, with new export orders outwith the UK falling for the second successive month.
"Nevertheless, these results provide more welcome evidence of the growing strength of the recovery in the Scottish economy."