Bus manufacturer Alexander Dennis drives up profits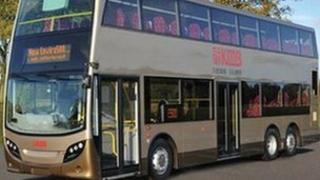 Turnover and profits have risen sharply for bus manufacturer Alexander Dennis Limited (ADL), following strong sales growth in international markets.
The Falkirk-based firm reported turnover climbed from £357m to £481m last year, while pre-tax profits grew by 56% to £24.2m.
ADL performed particularly well in its key overseas markets of North America, Australasia and Asia Pacific.
Total international turnover, excluding acquisitions, rose by 270% to £137m.
In accounts filed with Companies House, ADL reported that turnover in North America climbed from £4m in 2011 to £52m, following large orders from Canadian transport authorities for its three-axle Enviro500 model.
However, it added that the US market remained "more challenging due to a lack of federal funding".
Turnover in Australasia more than doubled to £52m, following the company's acquisition of Australia's second largest bus manufacturer, Custom Coaches, last June.
Asia Pacific turnover increased nearly three-fold to £62m, boosted by a good performance in the Hong Kong market.
UK bus market
ADL reported it had retained its 47% share of the UK bus market, which grew by 17% in 2012 to just over 3,000 new chassis registrations - its highest level for three years.
The firm said that a strong market in the first half of the year, driven by demand for vehicles for the London 2012 Olympics, gave way to a much softer second half as customers were cautious, given the economic outlook in the UK.
ADL stated: "Customers are increasingly focusing on fuel economy and reliability of their fleets and, as a leading provider of lightweight fuel-efficient vehicles, this is an area in which we have been investing heavily over the past few years and we will continue to do so to maintain our market position."
The company now has 2,400 employees across its operations in the UK and abroad.
Earlier this month, ADL completed the refinancing of its core UK banking facilities, securing a five-year £80m revolving credit facility and a £5m annual overdraft facility.