Island energy subsidy move welcomed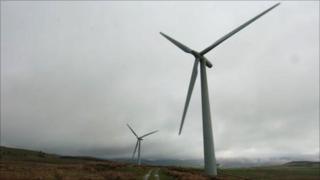 The renewable energy industry has welcomed UK government moves towards special subsidies for power generated on and around Scotland's islands.
The cost of connecting to mainland markets has held back development.
The Department of Energy and Climate Change has announced it is to consult, this summer, on the subsidy levels necessary to encourage investment.
Highlands and Islands Enterprise called the move groundbreaking and "hugely welcome".
The process would determine the "strike price". If the market price for energy is below that level, a subsidy system kicks in to ensure the producer has a minimum level of income.
'Detail needed'
The Whitehall department has also announced the strike price for future developments of wind power throughout Britain and offshore.
That is understood to be equivalent to the level of subsidy from Renewable Obligation Certificates (ROCs) through which the industry has been supported until now, though it reduces for those installing turbines later.
The Scottish Renewables industry group said the price guarantee was an important element of expanding investment. But it added that firms would need more detail before they could commit to construction.
The announcement on island subsidies was part of a wide-ranging statement by DECC in Whitehall, also setting out plans to pay energy producers to ensure there is adequate supply at points of peak demand.
It includes £75m of capital spending, intended for innovative energy projects that aim to lower the cost of deployment of renewable energy.
Responding to pressure from renewable energy developers in Orkney, Shetland and the Western Isles, the DECC statement said it intended "to consult in the summer on additional support for renewables projects located on islands, where these have clearly distinct characteristics to typical mainland projects".
It added: "This is on a timetable to allow a differential strike price to be set for these projects in the final delivery plan in December."
Confidence 'boost'
A particularly difficult part of this process is finding the right strike price for new nuclear power plants, in a complex negotiation between government and industry.
It is now expected that publication of the proposed figure on that is being put off until August, with December as the target date for the final figure.
Jenny Hogan, director of policy for Scottish Renewables, said: "The UK government's commitment to provide extra support for renewable generators on the Scottish islands will help reassure investors who are faced with the highest grid connection charges in the UK - but we can't afford to waste any time.
"The islands have huge potential for wind, wave and tidal energy, and can make a substantial contribution to the growth of renewables and the cleaning up of our energy sector. Likewise, local economies would receive a massive boost from the likely investment and jobs that could be created by projects on the islands."
Alex Paterson, chief executive of Highlands and Islands Enterprise, said the islands announcement was "groundbreaking, hugely welcome and signals commitment to developing a clearly defined solution".
He added: "Electricity Market Reform has undoubtedly caused investment uncertainty and while there is still some way to go before strike prices are demonstrably better than the existing Renewables Obligation. Today's publication should begin to give industry some confidence of a renewables market beyond 2017."
Wave power is set to get twice as high a strike price as offshore wind turbines. Martin McAdam, of wave power firm Aquamarine Power, said: "This proposed strike price gives a vital signal to inward investors.
"The private sector has shown it will invest in wave energy, provided there is a long-term market and stable support from government. This is a very good step on the way."
Nuclear 'obsession'
Responding to the publication of draft strike prices for renewable energy technologies, Ms Hogan said: "Knowing your strike price is just part of the picture; we now need to see the details of the contracts to put them into context, which won't be published until August.
"Only then can we judge if the levels will be sufficient to encourage the investment needed to meet our targets.
"The process of Electricity Market Reform is very long and incredibly complex, but the challenge now is for us to ensure that the government's proposals can deliver the huge investment in renewables needed to meet our shared goals for 2020."
WWF Scotland said the announcement contained mixed messages. Director Lang Banks said: "There is little point in generating huge amounts of renewable energy on Scotland's islands if it cannot also be got to the mainland, so it's good news to see targeted support, through a specific strike price, to help encourage island-based clean energy.
"However, taken together, the negative impacts of the UK government's obsession with supporting nuclear and fossil fuels appear to outweigh the positive moves made on renewables."