Language firm TEFL Scotland seals China training deal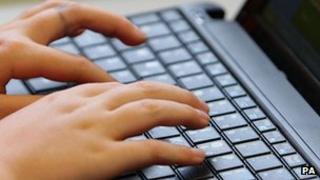 A Highlands-based company which began life in a garden shed has won a contract to develop training courses for Chinese English teachers.
Under the deal, TEFL Scotland will partner Zhi Bo Hong Yuan Co - a wholly-owned subsidiary of the National Website for Primary and Middle School Teachers' Further Education.
It is one of China's largest online training providers for teachers.
The deal was one of three Sino-Scottish educational links announced in Beijing.
They included an initiative by the University of Glasgow, under which up to 90 Chinese students in Chengdu will be offered scholarships.
The project should create up to 15 jobs, split between Glasgow and China.
A third link will see the launch of a new training programme by Scotland's Rural College Elmwood Golf International, which has trained more than 700 Chinese lecturers and golf professionals over the past 13 years.
New jobs
The TEFL Scotland deal is worth an estimated £1m over three years.
TEFL Scotland and Zhi Bo Hong Yuan Co, which operates as teacher.com.cn, will jointly develop and promote TEFL distance and classroom training and international culture exchanges to English teachers across China.
The contract will result in TEFL Scotland doubling its workforce in the Highlands, bringing an expected 10 new jobs to the company's Dingwall base.
Joe and Jennifer Hallwood founded TEFL Scotland in 2008 in Beauly after meeting while teaching English in Greece.
Starting with a budget of a few hundred pounds, company turnover grew to £1m in just three years.
TEFL Scotland now employs 13 people in Scotland - 10 in Dingwall and three in Edinburgh - and trains about 5,000 people a year to go abroad and teach English.
The company has received ongoing support from Highlands and Islands Enterprise (HIE) and Scottish Development International (SDI).
Mr Hallwood said "This is our first step into the Asian language learning market and we're very much looking forward to working with teacher.com.cn.
"Hopefully this is the start of a long and successful business partnership, and one which will present further opportunities down the line."
'Ringing endorsement'
The three separate agreements were announced by External Affairs Minister Humza Yousaf, who said they are worth about £2m to the Scottish economy over three years.
Mr Yousaf, who is currently in China on a trade visit, said: "These announcements will provide Chinese students with practical skills and qualifications and position Scotland as world-class education, training and research partner.
"They are a ringing endorsement of Scotland's expertise in education, engineering and golf, and we are keen to continue sharing Scottish expertise with China to the mutual economic benefit of both our nations."
Earlier this week, Glasgow-based renewable energy consultancy SgurrEnergy signed a contract to provide support for the development of a Chinese province's first offshore wind farm.
Under the deal, it will provide services over two years for the Zhuhai wind farm project in Guangdong.
SgurrEnergy will advise on areas such as wind farm layout and site selection.