Online dating firm Cupid acts over allegations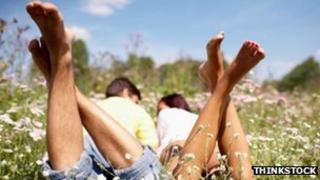 Online dating specialist Cupid has acted in response to allegations that it has been misleading clients.
Having taken legal advice, the company said it had set clearer guidelines on staff identification when online with customers.
Edinburgh-based Cupid is also preparing to publish an independent review of its operations by end of this month, following a BBC investigation.
The company said the review and changes already under way were hitting profits.
In a statement to the London Stock Exchange, chairman George Elliott said: "Much work has been done and investment made, particularly in the last six months, to improve the customer experience.
"Whilst this has impacted short-term profits, we are building a robust, scalable business for the longer term to realise the true value that exists in the asset."
'Mainstream' sites
The company is to focus on "mainstream" sites such as cupid.com and amour.com, as well as niche sites including uniformdating.com.
However, it is seeking a buyer for "casual dating" sites benaughty.com and flirt.com. And it is seeking to expand other brands through social media - canoodle.com and yolo.com.
Following the BBC investigation, Cupid rejected claims it had created "fake profiles" to attract potential clients, much of that through its Ukrainian operations.
But it has since taken "leading legal advice", following which it said on Friday: "A number of recommendations have been implemented as a result, including clearer guidelines for customer service staff interactions with customers and clearer identification of Cupid staff when online with customers.
"This should allay any concerns with regards to the staff profiles that are in place and help to detect and identify any issues."
Cupid's share price fell sharply after the BBC investigation was broadcast in February, from a peak of 217p to a low point of 33p.
It partially recovered, but has fallen again this week. At lunchtime on Friday it was trading at 67p.