SSE boss Ian Marchant earned £2.6m last year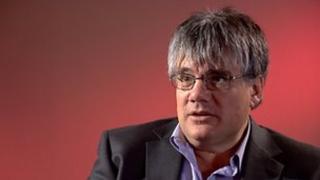 The chief executive of SSE earned a total package of more than £2.63m in the last year.
Ian Marchant, whose company trades as Scottish Hydro, Southern Electric, Swalec and Airtricity, had received £1.45m in 2011.
The company's annual report showed he earned a basic salary of £870,000, up by £30,000.
He also received shares worth more than £1m from the firm's long-term bonus plan. His pension was worth £680,000.
Mr Marchant, who is leaving SSE later this month, told the BBC earlier this year that he believes senior executives are overpaid.
Incentive bonus
In an interview, he said that SSE is the only company he knows of its size that explicitly says it aims to pay below average.
His deputy, who will replace him, Alistair Phillips-Davies, earned a total £1.84m for last year, up from £988,000 in 2011.
Much of the increase is explained by the long-term incentive bonus. There was an award of 51% of the maximum that senior executives could have received under the Performance Share Plan for 2010-13, whereas there was no such pay-out in the previous year, covering 2009-12.
Headquartered in Perth, SSE has faced strong criticism for its pricing, in common with other energy providers. It was also fined a record £10.5m by the energy regulator earlier this year as punishment for misleading sales practices.
Ofgem decision
The remuneration committee of the SSE board reported that it had "to consider the financial and reputational impact of the Ofgem decision in relation to domestic energy sales, and the most appropriate way to respond to this issue".
As a result, it reduced the other element of the bonus scheme, the annual incentive payment. That would otherwise have meant 68% of the maximum that could have been achieved by senior executives, but instead they were due 38%.
Ian Marchant waived that part of his pay, which had delivered a £210,000 bonus in the previous accounts. Alistair Phillips-Davies saw his annual bonus rise from £136,000 for 2011 and paid out last year, to £210,000 in the most recent accounts.
In the annual report, the management team say there remains a lot of volatility on energy prices, putting pressure on energy bills, while customers also face the cost of implementing government schemes for energy efficiency and social tariffs.