Direct marketing firm Aquira to create 200 Glasgow jobs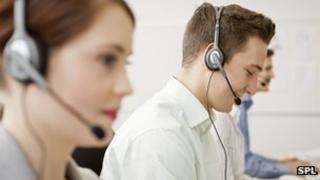 Direct marketing firm Aquira has announced plans to create up to 200 jobs in Glasgow.
The news came as the company opened a new sales centre at Pacific Quay.
The jobs include consumer and business-to-business sales and support roles.
Aquira, which uses telemarketing, web, email, social media and mobile marketing approaches, said the move would enable it to offer a full outsourced sales service under one roof.
Aquira will receive £500,000 of support through Scottish Enterprise.
A total of 60 posts have already been filled for the new centre.
Aquira managing director Marilyn Barnes said: "Glasgow has a growing reputation as a great place to do business. That's why we chose to invest here.
"Our decision is based on extensive research and is a strong reflection on the city's commercial status and the highly skilled nature of the local workforce."
First Minister Alex Salmond welcomed the news.
He said: "Up to 200 new jobs is fantastic news for Glasgow, creating a very welcome boost to the local economy and presenting new business opportunities in the heart of the city's digital district.
"I know that Aquira have spent two years looking for just the right location to site their new specialist sales facility and it's no surprise to those of us familiar with Glasgow's skilled and dedicated workforce that they've chosen Scotland's biggest city."