Business lending returns to 'normal'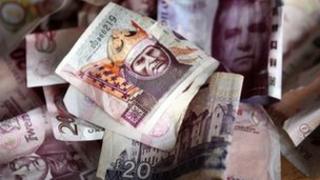 Business lending is returning to "a more sensible and normal place", according to the ombudsman.
However, Prof Russel Griggs said the problem remains of a lack of demand while the economy remains so uncertain.
In his second annual report, the business loans appeals chief reported that he has unlocked more than £30m of new lending, by forcing banks to reconsider lending refusals.
The number of appeals rose last year to 3311, up from 2177, a rise of 52%.
The government-appointed referee said this partly reflected better publicity of the appeals system, rather than a rising problem of lending refusals.
Of those lending refusals that went into the appeals system, 39% were overturned once the bank had been asked to reconsider.
Prof Griggs said banks had started to adjust their lending and appeals processes to take account of his work. He returned to last year's highlighted problem of credit scoring, saying it remained a problem, particularly for smaller firms, seeking less than £25,000.
The handling of credit card lending, for those seeking smaller amounts, also throws up particular problems that he wants addressed by banks.
He quoted figures suggesting that most of the finance for small businesses was through credit cards, and that the consumer protection law was being applied to strictly by regulators.
It means that regulations intended to protect individuals from irresponsible lending are business assessments.
Credit score
And credit rating agencies are linking personal finances too closely to business ones.
One small business was refused a bank loan because its owner had just bought a car, and the multiple checks made by the car financing company had wrongly flagged up to credit rating agencies that there was a problem.
Prof Griggs said all lenders are now asking for more information than they did before 2008, and they take longer to make decisions.
"For those of us that can recall the time before the buoyant period of the 90s and early 2000s, then it is probably back to where it was before that," he said.
He also said banks have had to adjust to the gap left by the withdrawal of many lenders from the UK market after the 2008 crisis, while retreating to sectors where lenders were more comfortable.
"Pre-2008, they had all become generalists, looking for business almost everywhere, but now that the economy and lending conditions have changed, so they have returned to what they know has brought them success in the past or to sectors in which they have experience of operating," he said.
In his report, Prof Griggs said that firms could handle different levels of certainty, but the current level of economic uncertainty was what was making them pull back from asking for more lending. Instead, many were paying down debts.
"The challenge that all politicians, lenders and economists have is that we have never been where we are before, in terms of a return from a recession," he wrote.
The gap
The lending ombudsman's report calls for more publicity for the appeals process. It says banks need to explain their decisions on lending in plain English, with less legalese.
And Prof Griggs said that the closure, in England, of Regional Development Agencies and Business Link had significantly cut access to help and advice for small businesses.
"While the Local Economic Partnership network and the Chambers of Commerce are trying to fill the gap, to some extent it is very patchy and inconsistent," he wrote.
"There is a gap in financial readiness assistance at the small end of the business and lending spectrum in England which needs to be addressed".