Gamesa sells first Scots wind farm at Carscreugh Fell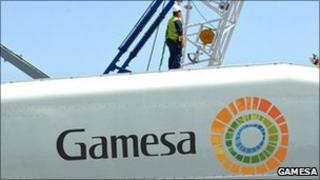 Spanish firm Gamesa has sold its first wind farm development in Scotland to a specialist investor and asset manager.
The company said it had sold the 15.3MW Carscreugh Fell development near Glenluce in Wigtownshire to John Laing.
The wind farm was approved last year by ministers after being rejected by Dumfries and Galloway Council.
Gamesa expects to install 18 G52 wind turbines towards the end of this year and to commission the facility in the first quarter of 2014.
Under the agreement, the company will also carry out operations and maintenance services at the facility for 10 years.
Once commissioned, the wind farm will have the potential to generate enough energy to supply more than 9,500 households.
Gamesa said the deal was part of its new strategy to develop and sell wind farms without having to put up its own funds.
The firm has had a presence in the UK market since 2005.
It has an operations and maintenance services centre and a research and development office near Glasgow.
In March last year, Gamesa announced it had chosen the port of Leith for the site of a new wind turbine manufacturing plant.
It said at the time that the £125m investment could create more than 800 jobs directly and hundreds more in the supply chain.