CWU union claims further job cuts at O2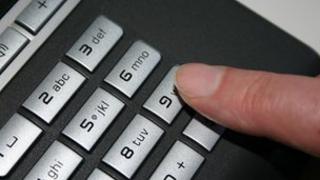 The Communication Workers Union (CWU) has claimed a further 400 call centre staff at O2 are to be made redundant following moves by the company to outsource work to Capita.
CWU said the losses were on top of up to 600 voluntary redundancies planned for centres in Glasgow, Bury, Leeds and Preston Brook near Warrington.
The union is currently balloting for strike action over the move.
O2 stressed they were not compulsory redundancies.
In a statement, CWU said it was "dismayed" to learn of further job losses at the Spanish-owned company.
It claimed up to 600 people were taking a package to leave by 6 July, while 400 more would leave by 1 December.
The remaining staff will be transferred to Capita on 1 July.
O2, which is owned by Telefonica, employs nearly 3,000 people at its UK centres.
It said recently it was extending its existing 20-year partnership with Capita by a further 10 years to include the running of its call centres.
'Dismayed'
CWU deputy general secretary Andy Kerr said: "We're dismayed and disappointed at this latest announcement of job cuts from O2 at such short notice.
"The outsourcing transfer date is less than three weeks away and the goalposts appear to be moving daily.
"This is not how a decent, responsible employer should behave."
A spokesman for Telefonica-owned 02 said: "These are not compulsory redundancies.
"They relate to our well-publicised commitment of offering discretionary voluntary redundancy, the terms of which have proved an attractive option for a number of people expressing a wish to leave and has allowed them the opportunity to choose the path which suited their personal circumstances.
"We're now going through the final stages of letting those who applied know what the next steps are.
"The extension of our partnership with Capita means that the transfer of our people will see no change to where they work and their terms and conditions such as their salary will be protected."
He added: "The deal also offers them a guarantee of job security for two years, something we alone as Telefonica UK could never offer."