Glasgow Prestwick passenger numbers continue to rise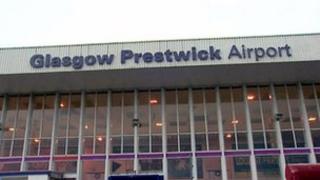 Passenger numbers are continuing to recover at Glasgow Prestwick Airport, according to the latest monthly figures.
The airport said 118,634 passengers passed through Prestwick in May - a 14% increase on the same month last year.
It was the airport's eighth consecutive month of year-on-year passenger growth.
Airport chief executive Iain Cochrane said the figures for May were "extremely encouraging" and augured well for the rest of the year.
He added: "Summer numbers here will be further boosted by Ryanair's decision to add more flights to Malaga, Faro and Alicante in July.
"And as more Scots head for their summer holidays in June, July and August to destinations such as Spain, Italy and Poland, we expect to see passenger volumes continuing to increase over last year."
Prestwick was put up for sale more than a year ago by its New Zealand owners, Infratil, but has yet to attract a buyer.