Scottish unemployment continues to fall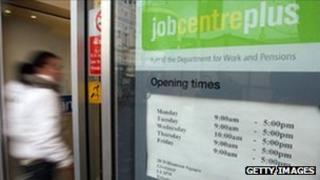 Unemployment in Scotland has fallen for the seventh time in a row.
The number of jobless fell by 6,000 to 194,000 between February and April, according to Office for National Statistics (ONS) data.
The Scottish unemployment rate is 7.1%, which is below the average of 7.8% for the whole of the UK.
Employment in Scotland increased by 47,000 over the three months to reach 2,530,000.
The number of people claiming Job Seeker's Allowance (JSA) fell by 700 between April and May to stand at 135,600.
In the UK as a whole, unemployment fell by 5,000 to 2.51 million.
Meanwhile, youth unemployment in Scotland over the three months to April was 6.1% lower than the same period last year.
The youth jobless rate of 15.2% is lower than the UK rate of 19.5%.
Youth jobs
First Minister Alex Salmond welcomed the latest figures, particularly the continuing fall in youth unemployment.
He said: "Today I have announced further measures to support youth employment, with an £88m investment into work and supporting small business growth.
"This investment will help create 10,000 new youth jobs.
"This money shows our commitment to support young people in Scotland, and to work with local government and other social partners in a series of initiatives to provide employers with the help they need to create youth jobs."
Scottish Secretary Michael Moore said: "The rise in employment together with fewer people claiming Jobseekers Allowance in Scotland is very welcome, not least for those who are moving from unemployment into jobs.
"This shows the decisions we are taking to tackle the deficit and build a stronger and fairer economy are working."
'Encouraging signs'
The Scottish Chambers of Commerce also welcomed the latest figures.
Chief executive Liz Cameron said: "We have seen a steady downward trend in unemployment in Scotland throughout this year so far and the news that this latest fall has been accompanied by a rise in employment suggests that job creation in Scotland is becoming more sustained.
"Unemployment is one of a number of indicators which are showing a more consistent positive pattern over recent months and whilst it is still too early to say that the recovery is underway, the number of encouraging signs is growing."