Cash boost for Glasgow-based drug research project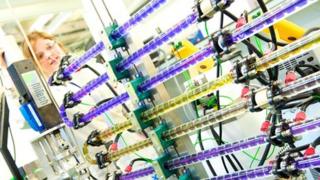 A Glasgow-based national research project which aims to speed up the development of new drugs and make cheaper medicines available has been given a major funding boost.
The University of Strathclyde-led CMAC centre was awarded £11.4m by the Higher Education Funding Council for England (HEFCE).
The centre has already secured £22.8m in industry and charity contributions.
The university said the cash would boost its manufacturing research work.
CMAC director Prof Alastair Florence said: "This substantial investment will further develop and enhance the leading facilities supporting our cutting-edge manufacturing research programme.
"In strengthening the national centre's capabilities, the state-of-the-art facilities will not only benefit researchers at Strathclyde but the wider UK academic and industrial community.
"Our shared aim is to shorten the time required to take drugs to market, to improve quality and to reduce manufacturing costs."
He added: "For centuries, many chemical products - including medicines - have been manufactured using traditional processes, whereby they are produced in large batches and stored in expensive warehouses.
"We are leading a revolution in the way such medicines will in future be produced by pharmaceutical firms - and the potential benefits of the centre's work are enormous."
Innovation centre
CMAC - which stands for the EPSRC Centre for Innovative Manufacturing in Continuous Manufacturing and Crystallisation - is due to move next year into Strathclyde's new £89m Technology Innovation Centre, where leading researchers from academia and industry will work side-by-side.
CMAC is being supported by a number of businesses and charities including GSK, Novartis, AstraZeneca and Cancer Research UK.
The centre also works with academic partners at the Universities of Bath, Cambridge, Edinburgh, Glasgow, Heriot-Watt and Loughborough.
CMAC was among five UK projects to receive cash in the latest HEFCE funding round.
The others were the University of Cambridge, University College London, the University of Manchester and the University of Sheffield.
Minister for Universities and Science David Willetts said the UK's universities were at the forefront of the country's economic recovery.
He added: "It's vital we do everything we can to encourage collaboration with the private sector and boost funding for research."