KPMG report: Golf in Scotland worth £1bn to economy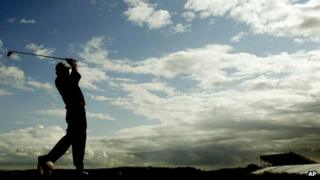 Golf in Scotland has become a £1bn a year industry employing more than 20,000 people, a report has estimated.
A KPMG/Oxford Economics report found the sector generates more than £1.1bn in annual revenues.
It estimated that, once costs are taken into account, golf directly contributes £496m to Scotland's gross domestic product (GDP) annually.
The report was commissioned by the Scottish Golf Union in conjunction with VisitScotland and Scottish Enterprise.
Based on 2011 data, it focused on six sectors of the golf industry - facility operations, golf course capital investments, golf supplies, tournaments and endorsements.
'Challenging conditions'
Scottish Golf Union chief executive Hamish Grey said the report demonstrated the significant value of golf to Scotland's economy.
He added: "Comparing it to other industries, we can now see for the first time that, for example, golf's direct contribution to GDP is 89% that of fishing and fish farming, and 83% of air transport.
"Scottish golf clubs are continuing to operate in challenging conditions, particularly in terms of finance and climate, and the Scottish Golf Union are providing our affiliated clubs with increased support, guidance and help with future business planning to ensure we have stronger clubs in the future to take advantage of the money spent in the industry."
Dr Mike Cantlay, chairman of VisitScotland, added: "Golf is a hugely important contributor to the economy of Scotland, and tourism in particular.
"With a number of major golf events on the horizon in Scotland, it was important to understand the scale of the industry as a whole in order that we continue to build and grow the industry in future."