Seaweed forces East Lothian's Torness nuclear plant closure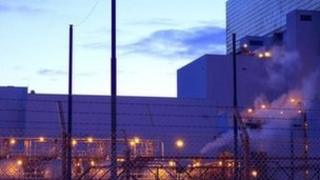 A nuclear power reactor at Torness remains closed after seaweed threatened to clog its systems although a second has reopened.
The plant's owner EDF Energy took both reactors offline at Torness on Friday to prevent seaweed from entering the facility's cooling system.
Torness 2 reactor has been reconnected however data from the National Grid shows that Torness 1 remains offline.
In 2011 both reactors were closed after a swarm of jellyfish near the station.
It is thought the high levels of seaweed around the plant, to the east of Edinburgh, are due to severe weather conditions in the Forth estuary.