Salmon firm Marine Harvest faces call to move fish farms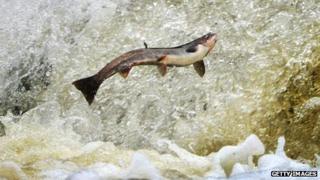 Scotland's biggest producer of farmed salmon is facing renewed calls to move its farms away from wild salmon rivers to prevent parasite transmission.
This is despite Marine Harvest signing up to a scheme to reduce the impact of fish farming on the environment.
WWF Scotland said the move was an important step which could now be followed by the rest of the industry.
But the Salmon and Trout Association said the farms were often too close to wild salmon rivers.
'Good news'
It said this threatened conservation and wants those farms to be moved or closed.
Marine Harvest, which has farms in the north west of Scotland and on the Western Isles, said it would be seeking certification for its Scottish fish farms from the Aquaculture Stewardship Council.
Fish farms will only receive ASC certification if they exceed current legal requirements governing chemical use and the problem of parasite transmission between farmed and wild salmon.
Lang Banks, director of WWF Scotland, said: "The salmon farming industry's activities have quite rightly come under close scrutiny recently, so this announcement is really good news for Scotland's environment.
"However, it is only when all salmon farm operators embrace the standards that we will know if, as an industry, they are really serious about operating sustainably and reducing their impacts on the environment."
But Alan Sutherland, managing director of Marine Harvest in Scotland, conceded it would be the end of the decade before all of the company's farms met the required standards.
Mr Sutherland said: "This is a relatively new industry and we have been working hard in recent years to improve our environmental performance and our sustainability.
"We aim to have all of our farms certified under the scheme by 2020. In the meantime, we will report on our progress towards that target".
Wrong places
The Salmon and Trout Association in Scotland welcomed the news that Marine Harvest would meet its demand to publish sea lice data for all of its farms on a weekly basis.
But association spokesman, Guy Linley-Adams, told BBC Scotland News: "This isn't the end of the story. Marine Harvest still have fish farms in the wrong places.
"These are too near to wild salmon rivers, threatening wild fish conservation. Those need to be relocated.
"Loch Ewe is perhaps the most infamous case of a fish farm in the wrong place."
A Scottish government spokesman said: 'While we welcome the announcement that Marine Harvest is aiming to achieve ASC certification for all its salmon by 2020, that is clearly a long-term objective.
"The Scottish government maintains its support for the enhanced voluntary reporting of sea lice data for 30 areas based on recognised wild fish catchments."