Scottish women urged to enter IT industry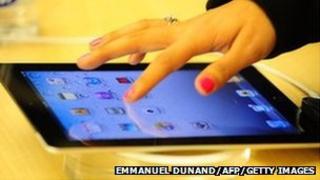 A senior executive at technology firm Hewlett Packard has urged Scottish women to enter the IT industry and boost their presence in the sector.
Maggie Morrison, an account general manager at Hewlett Packard, said women were "ideally placed" for highly skilled jobs in IT.
Research by sector body e-skills has suggested the industry needs more than 40,000 people over the next four years.
But Ms Morrison said women were under-represented in the sector.
They currently make up just 17% of the workforce.
Ms Morrison, who is also a Skills Development Scotland (SDS) board member, said: "Women are still under-represented in the technology sector but that really should not be the case given the amount of opportunities available.
"Thousands of jobs within the industry will be created in the coming years and there is nothing to say these jobs are for men only.
"That is why it is crucial young women have role models and can hear first hand from those who are enjoying successful careers in the sector."
'Fantastic jobs'
Ms Morrison was speaking ahead of a conference at the Royal Society of Edinburgh, which will discuss the growing opportunities in the sector.
Speakers at the event, which has been organised by SDS in partnership with Scotland Women in Technology (Swit), will include Rhona Hutchon, director of IT outsourcing service provider Harvey Nash Scotland.
The conference will be attended by graduates and modern apprentices from Dell, IBM, HP, Cisco and Oracle.
Swit founder Silka Patel said: "This event aims to highlight the fantastic and varied jobs available in the sector for young people and women.
"Stem subjects - science, technology, engineering and mathematics - open so many careers doors and the technology industry is one of today's few growth sectors, so it's important that we get the message out there, loud and clear."
Swit is a joint initiative by Cisco, Dell, HP, IBM, Oracle, SDS and Scottish Enterprise.
It aims to "attract, inspire, empower and retain" women in the sector by developing a community and network to help grow their contribution in IT business.