Bank of Scotland: Economic activity gathers pace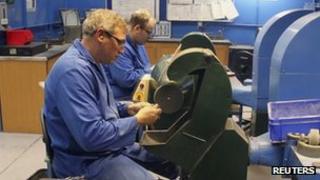 A more robust recovery in the Scottish economy could be under way, a report has suggested.
The Bank of Scotland's purchasing managers' index (PMI) for April found the fastest rise in business activity for a year, in both manufacturing and service industries.
The index also showed employment rising at its fastest pace for nine months.
The bank's chief economist said the growth was largely down to demand in the UK.
The expansion was broad-based by sector, with a return to growth in factory output accompanying a further rise in activity at services firms.
The latest survey suggested Scotland outperformed the UK as a whole.
The index recorded a fifth straight monthly increase in the volume of new work placed with businesses.
But firms said they were paying more for energy, food and some imported items because of unfavourable currency exchange rates.
Export orders
There was no change in the level of new export orders placed with manufacturers.
Staffing levels rose at both manufacturers and service providers in April, with similar rates of increase in each sector.
Output prices increased for the fourth month in a row. Although only modest, the latest rise was the most marked since last September.
Bank of Scotland chief economist Donald MacRae said the results suggested the Scottish economy was "beginning a more robust recovery".
Responding to the figures, Finance Secretary John Swinney said: "We welcome this further positive evidence that Scotland's economy is improving and note that private sector business activity in Scotland expanded for the seventh consecutive month in April, reaching a 12-month high.
"We recognise that market conditions remain challenging and that is why the Scottish government remains committed to investing in jobs and training as well as ensuring we have the most competitive business environment anywhere in the UK."
'Optimism climbing'
Meanwhile, a separate report by accountants BDO LLP suggested business confidence improved in Scotland last month, driven by "steadily climbing optimism levels" in the services sector.
However, its Business Trends survey suggested the outlook for the manufacturing sector remained bleak.
Overall, the report indicated that the second quarter of the year had got off to a good start.
Martin Gill, head partner at BDO LLP in Scotland, said: "We're pleased to see confidence slowly returning to businesses, and the continuing revival of the all-important services sector.
"However, as in previous months, our indices reveal a mixed picture. The manufacturing sector is a particular concern."