SSE boss 'ashamed' over mis-selling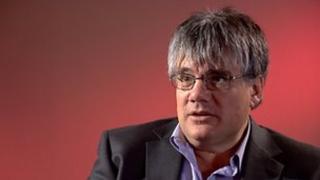 The chief executive of SSE energy firm has said he is personally ashamed that the company faced strong criticism for mis-selling.
Ian Marchant was speaking after the Perth-based power provider was fined £10.5m for misleading potential customers about rivals' prices.
In an interview about his company and the energy industry, he said senior executive pay was too high.
He also warned the government over future energy policy.
He said the delay in making policy on the future of energy pricing was putting the brakes on new investment.
In the wide-ranging interview with BBC Scotland, to be broadcast on the BBC News Channel and BBC Radio Scotland this weekend, Mr Marchant was asked how it felt to be told his staff had been lying, on his watch as chief executive.
He replied: "The examples of lying were few and far between. More common was misunderstanding, either deliberate or accidental.
"However, I feel deeply ashamed that a company I've been involved in, where I've been proud to be a leader, was involved in something that it should not have been. Absolutely, it's something that I'll regret for the rest of my career."
He added: "There are some customers who clearly don't like us at all, they've either been let down or feel they've been let down, and for that I'm obviously very sorry. The larger reaction from customers has been this has undermined confidence, you need to rebuild it, and what are you going to do about that?
"It will take a couple of years, I think, to get back to where we were even a month or so ago".
SSE trades as Scottish Hydro, Southern Electric, Swalec and Airtricity. And in comparing the criticism energy companies are receiving, in parallel with banks, Mr Marchant said:
"We did provide the energy, every day, 24/7, to our customers, and we are still doing it, whereas the banks...? What were they providing? Was there any value to the customer, for insurance products that would not pay out.
"So we may be in the eye of the storm more, but the deep-rooted problems are less in our industry".
Mr Marchant said he has reflected on what went wrong at SSE that led to the mis-selling fine, concluding that the sales pitch was "fragile", in trying to explain the benefits of switching while all prices were heading upwards.
Other reasons included managers not checking what they were being told by sales staff, and a failure to heed warning signs going back several years.
Executives overpaid
He said £1.3bn profits for SSE last year were explained by the scale of its operations, with some profits regulated and other margins below those retailers could expect.
On his pay of more than £800,000 per year, plus bonuses, he said he was underpaid by comparison with other chief executives in Britain's biggest companies, and agreed that top executives have become overpaid.
"We've been driven too much by the American view of business, and the consultants' view of comparators. Our stated policy is to pay less than average, and I am not aware of any other company with that status, and by definition, 50% of companies should be".
Mr Marchant is to step down as chief executive this summer after 11 years in the job, and 20 years within SSE's companies.
He said he hopes to continue as a company and charity director, while supporting small businesses and business education at university level.
Ian Marchant appears in Leading Questions, put by BBC Scotland business editor Douglas Fraser, at 20:30 on both Saturday and Sunday on the BBC News Channel, with the interview also broadcast on BBC Radio Scotland at 06:00 on Saturday and 10:00 on Sunday.