Universities and businesses link to increase graduate job chances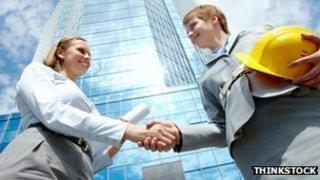 New links between Scottish universities and small and medium sized enterprises (SMEs) are being established in a bid to increase graduate job opportunities.
It comes after a survey found SMEs account for more than half of private sector employment but have relatively low graduate recruitment.
Smaller firms are to be promoted on campuses to highlight careers outside traditional large graduate recruiters.
The scheme will also encourage more paid work placements during terms.
SMEs are companies that employ less than 250 staff.
The initiative is being run by Universities Scotland, the Scottish Chambers of Commerce, the Federation of Small Businesses Scotland and student organisations following a recommendation from a university survey, Taking Pride in the Job.
'Lifeblood of economy'
There will also be a push to encourage students to use university career services from their first year of study.
Youth Employment Minister Angela Constance said: "Graduates often suffer from the same difficulties as school leavers and young people finishing college courses.
"As they often lack hands-on work experience, they are not always the first choice for employers, particularly in times of economic difficulty.
"I am very pleased that Universities Scotland has answered the Scottish government's call for a fresh focus on youth employment, and their work with the business world will not only help open up more employment opportunities for graduates, but also allow our SMEs better access to an incredibly enthusiastic pool of young talent."
Universities Scotland's convener Professor Pete Downes said: "Small businesses are a key part of Scotland's economy and can offer graduates so much in the way of diverse opportunities and hands-on experience, particularly as employment in this sector means working closely with established and successful entrepreneurs.
"Employing graduates is important for these companies to succeed by being more innovative and adaptable.
"Small businesses are the lifeblood of Scotland's economy and to continue to thrive they will need to refresh their talent with highly motivated and highly skilled university graduates."