Call to devolve air duty before 2014 Games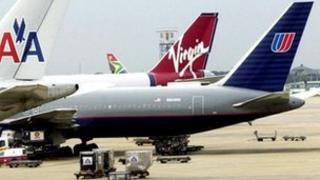 The Scottish government, airports and tourism leaders have called on the UK government to devolve Air Passenger Duty (APD) before the 2014 Commonwealth Games and the Ryder Cup.
They said high APD charges could put off tourists from flying to attend the Glasgow and Perthshire events.
Last year, a report from Scotland's three largest airports said APD could lead to a cut in passengers.
It said the Scottish economy could lose £210m a year in tourism spend by 2016.
A UK Treasury spokesman said: "Whether to devolve air passenger duty to Scotland remains under review."
The level of APD depends on the country to which an airline passenger is flying.
When flying from any British airport there are four bands based on the distance between London and the capital city of the destination country, ranging from £13 to £184.
There is concern that the duty is applied uniformly across the UK, with no consideration given to the differences between a large hub airport like Heathrow, and smaller regional airports such as Dundee.
The majority of MSPs believe the Scottish Parliament should have control over the aviation tax.
New regime
Transport Minister Keith Brown said: "Scotland will welcome the world in 2014 courtesy of the Commonwealth Games and Ryder Cup, and yet we are in the absurd situation of increasing costs for people who intend to visit Scotland.
"The 'World Economic Forum, Travel & Tourism Competitiveness Report 2013' shows that the UK has amongst the highest aviation taxes and charges in the world, ranked 139th out of 140.
"I would urge the UK government to deliver devolution of APD as soon as possible so that we can develop a regime that makes Scotland more competitive."
A Transport Scotland study found that a family of four on a return flight in economy class from the US would have to pay £268 in air passenger duty.
A couple from Spain would have to pay £26 to fly home from Scotland.
Mike Cantlay, chairman of VisitScotland, said: "As we look ahead to the spectacular opportunity to reposition Scottish tourism when Scotland welcomes the world in 2014, I know that the industry is extremely anxious about how accessible and competitive Scotland will be in terms of access by air."
Gordon Dewar, chief executive of Edinburgh Airport, said airlines were questioning the viability of basing planes in Scotland because of APD.