Scottish Coal: Liquidators 'in talks with interested parties'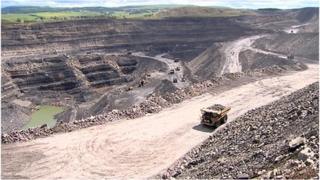 Liquidators handling the collapse of one of Scotland's biggest coal-mining firms have confirmed they are in talks with parties who have expressed interest in parts of the business.
Scottish Coal went into liquidation earlier this month, with the loss of almost 600 jobs.
KPMG said it was assessing the interest shown and continuing discussions with various unnamed parties.
It added, however, that the likely final outcome was "far from clear".
'Extremely complex'
In a statement, joint liquidator Blair Nimmo said the failure of Scottish Coal presented "an extremely complex set of issues" affecting a wide variety of stakeholders.
He said: "While discharging our statutory responsibilities as liquidator, we are also endeavouring to liaise with key stakeholders such as the Scottish government, various local authorities and Sepa in an open and consensual manner.
"Site security and maintenance have been a key priority, which is why we have retained a significant number of staff to assist in this area.
"In tandem with this, over the last few days we have been in discussion with a variety of parties who have expressed an interest in the business - or, more precisely, certain parts of it."
He added: "Our assessment of this interest and discussions with these parties continue with the aim of finding the best possible solution in as short a timescale as possible.
"Many aspects of this insolvency are unprecedented and the likely final outcome is far from clear, but it is essential that all parties continue to work together in a constructive and professional manner to find the best solution possible."
The company operated open cast mines in Ayrshire, Lanarkshire and Fife.
A taskforce was set up after it collapsed in a bid to protect as many jobs as possible.
The group includes representatives of affected councils, the Coal Authority, the relevant unions, the Scottish government, environmental agency Sepa and the UK government.
Local politicians representing the coalfield communities affected are also involved.
Some 142 staff have been kept on at Scottish Coal sites, mainly in maintenance roles.