Weir Group chairman Lord Smith of Kelvin to step down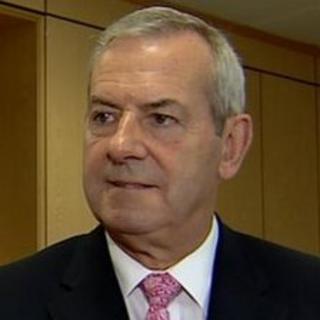 Lord Smith of Kelvin has announced he is to step down as chairman of Glasgow engineering firm Weir Group.
Lord Smith, who has chaired the company since 2002, will leave at the end of the year.
His post will be taken up by Charles Berry, who has been appointed deputy chairman until Lord Smith's departure.
The announcement came as Weir reported a sluggish start to the year, with first-quarter revenues down on a year ago.
The company said revenues had fallen largely as a result of lower original equipment sales in its oil and gas division.
Operating profits were down on last year, with margins also squeezed by one-off costs related to the continued restructuring of Weir's pressure pumping operations.
The company said its first-quarter results were affected by a lower opening order book, particularly in the oil and gas division, which was partially offset by a positive first contribution from recent acquisitions.
In an interim management statement, Weir described trading in the period as "resilient and in line with expectations".
The group added that it expected low single-digit revenue growth this year, with lower first half revenues and margins offset by growth in the second half.
Business 'transformed'
In announcing he was stepping down as chairman, Lord Smith said: "It has been a privilege to serve as chairman during such a momentous and exciting time for the company.
"The business has been transformed under the leadership of two outstanding chief executives, Mark Selway and Keith Cochrane.
"Weir today is a focused and high-performing group, with an enviable track record of growth and a clear sense of its future direction."
Lord Smith continues to hold a number of high-profile roles in Scotland.
He is chairman of Perth-based energy firm SSE as well as chairman of the organising committee for the Glasgow 2014 Commonwealth Games.
Lord Smith is also chairman of the UK Green Investment Bank, a company set up by the UK government to accelerate additional capital into the green economy.